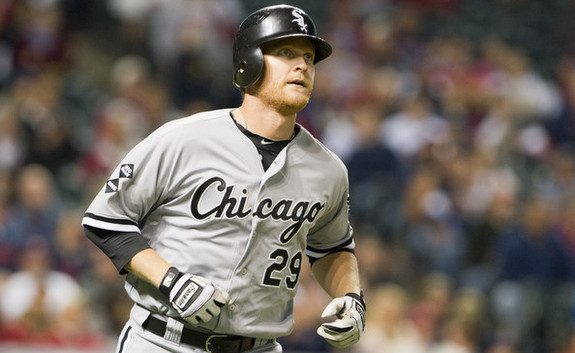 Spring Training is less than three weeks away and the Yankees still need a DH, bench help, and miscellaneous minor league depth. They brought in a player who might be able to satisfy any one of those needs on Thursday, signing corner infielder Dan Johnson to a minor league contract with an invitation to Spring Training according to Sweeny Murti. Andrew Marchand says the deal is worth $900k at the big league level.
Johnson is probably best remembered by Yankees fans for his two-out, two-strike, game-tying homer off Cory Wade (video) in the ninth inning of Game 162 in 2011. He actually has a bit of a history when it comes to super-clutch late-season homers, including this 2008 shot against the Red Sox that helped keep the Rays in first place and this 2010 walk-off shot against Boston that kept Tampa tied atop the AL East. Johnson has been dubbed by the Great Pumpkin by the Rays faithful because he pops up once a year to do something awesome, so hooray for original nicknames.
Anyway, none of that really matters to the Yankees. Johnson, 33, is a career .237/.338/.412 (102 wRC+) hitter in over 1,550 career big league plate appearances, but most of that came during his time with the Athletics back in the day. Since landing with the Rays in 2008, he's been a .185/.309/.379 (93 wRC+) hitter in a little less than 300 plate appearances. He had a very brief (eight games) stint with the White Sox last year and hit three homers in the final game of the season. Johnson's career Triple-A numbers are gaudy: a .294/.408/.553 line with more walks (15.7%) than strikeouts (15.1%) in nearly 3,000 plate appearances. He also spent the 2009 season in Japan.
Defensively, Johnson fits best at first base or DH, but he can fill in at third in a real pinch. I'm talking an emergency, not once a week or anything. Since he doesn't steal bases or offer any speed, he's just a pure left-handed bat who needs a platoon partner. Given his pull-happy approach, Johnson could have some fun with the short porch in right field even though his homers have averaged over 380 feet over the last three years according to Hit Tracker. That's pretty impressive. It's also worth noting that he doesn't strike out as much as guys with this profile tend to do (18.9 K% since 2008), so that's cool.
At worst, Johnson will man first base for Triple-A Scranton — he was the International League MVP in 2011 — while at best he takes over as New York's regular DH. In the middle, he serves as a defensively limited left-handed bat off the bench. The signing is similar to the Russell Branyan pick-up last year, except Johnson is younger and doesn't have a history of back problems. The move won't preclude the Yankees from signing another player to be their DH or fill out the bench.