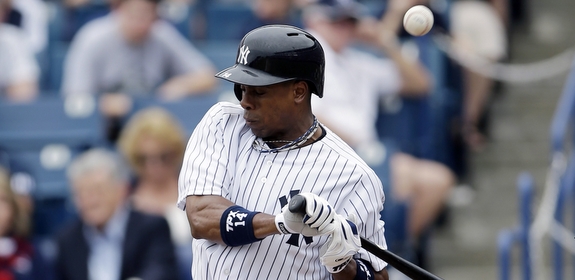 The Yankees lost quite a bit of offense this winter, so the last thing they needed was one of their top hitters to get hurt in his first Spring Training at-bat. Curtis Granderson will miss ten weeks with a fractured right forearm, the team announced. He was hit with the fifth pitch he saw from Blue Jays left-hander J.A. Happ in today's Grapefruit League game.
"I was excited," said Granderson to Mark Feinsand after suffering the injury. "My body was feeling good, mind was feeling good and I was ready to go. Five pitches in we have a little setback. They said it could be worse. Now we rest, recover, get it back and get ready to play whenever that day comes … Mentally, you understand it's part of it. At the same time, there's not much I can do about it except for doing the best things I can to not make it worse but yet keep myself ready to go."
Granderson, 31, hit .232/.319/.492 (116 wRC+) with 43 homers last summer, by far the most on the team and the second most in all of baseball. As Buster Olney noted, players responsible for 162 of the club's 245 homers from last year are either hurt or playing for other teams. Obviously Travis Hafner and Kevin Youkilis will mitigate some of that, but not nearly enough. Juan Rivera and Matt Diaz are in camp competing for the right-handed outfield bench bat job, though both could wind up making the team now. Melky Mesa, Zoilo Almonte, Chris Dickerson, Ronnie Mustelier, Alfonso Soriano … you name it and he's a big league option at the moment.
I guess the good news is that the injury happened so early in camp. Ten weeks means Granderson should return in early-May, but remember, he'll miss all of Spring Training and will need some time to get himself ready to face big league pitchers. I'll be happy if he makes it back in mid-May, nevermind early-May. Brian Cashman is never one to panic, but the Yankees can't afford to sleepwalk through this injury like they did the offseason. They should be scouring the various markets hard for a replacement. They simply don't have enough offense right now.