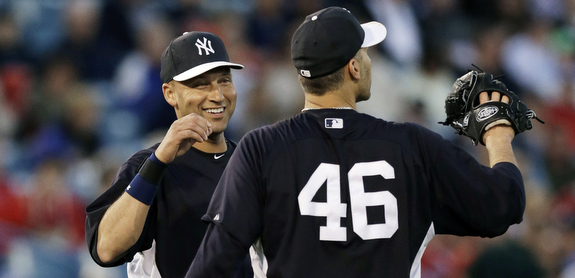 The Yankees beat the Phillies on Wednesday night, extending their Grapefruit League winning streak to four games. They've outscored their opponents 16-3 during the four games. Derek Jeter played shortstop for the first time since having left ankle surgery in late-October, but he wasn't tested at all. Not a single defensive play (that I remember). Oh well, it's the thought that counts. He went 0-for-2 with a walk at the plate. Ichiro Suzuki singled twice while Kevin Youkilis and new Yankee Ben Francisco both doubled.
Andy Pettitte made his Spring Training debut with three innings of one-run ball, getting his pitch count up to right around 60. Mariano Rivera made his second appearance of the spring and fired off another perfect inning. Shawn Kelley struck out two in a perfect inning and has quietly struck out five against no walks in five innings in camp. Here's the box score and here's the rest from Tampa…
RHP Adam Warren, OF Zoilo Almonte, and IF Corban Joseph were all sent to minor league camp. That's notable because Almonte and Joseph had chances to made the big league team, albeit small ones. Ronnie Mustelier is still alive though. The Yankees still have 51 players in camp by my unofficial count. [Mark Feinsand]
As expected, Phil Hughes will throw live batting practice tomorrow. Pitching coach Larry Rothschild won't reveal his schedule for the right-hander, but it seems like a simulated game could be next. [Joel Sherman]
This isn't really a camp note, so the speak, but I recommend this Dan Barbarisi article on Mariano Rivera and Ivan Nova. It details how Rivera gave Nova a little kick in the behind and told him to work harder if he wants to keep his job.
The Yankees will be on the road in Dunedin to face the Blue Jays tomorrow, a game that will not be televised at all. The starter still hasn't been announced, but it's expected to beWarren or Jose Ramirez.