Only three questions this week because you folks sent in a whole lot of repeats and wildly outrageous hypotheticals. Don't get me wrong, I love to talk about crazy trade scenarios as much as anyone, but no, the Yankees won't make a monster offer for Bryce Harper in the wake of Curtis Granderson's injury. So yeah, use the Submit A Tip box and step up your mailbagin' game.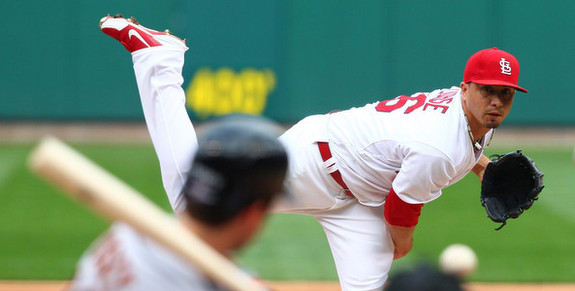 Paul asks: In years past I remember the season starting off with enough off days to make a fifth starter unnecessary until 2-3 weeks into the season. Freddy Garcia specifically had that happen. What's this season like in that regard? Any chance that, even if Phil Hughes is on the DL they just go with four starters for a couple of weeks?
Unfortunately the schedule works against the Yankees this year. They play their first game on April 1st, have April 2nd off, then play 12 games in the next 12 days. Barring any weather-related postponements, the absolute latest the Yankees will need their fifth start this season April 8th in Cleveland, the seventh game of the season. They'll need him again five days later, so it's not even a situation where they would need him once in the first four weeks or something.
The Yankees are in relatively good shape because they do have have that spare starter — the loser of the Ivan Nova/David Phelps fifth starter battle — to stick in Hughes' spot if his back injury delays the start of his season for any reason. My big concern is someone else getting hurt and having to miss time. All of a sudden Adam Warren would be taking the ball every five days in April and that is less than ideal. As I've written recently, I'm a fan of exploring a contract with Kyle Lohse even though it'll cost a draft pick. If he's willing to take favorable terms (one or two years at $7-8M annually?), having that extra quality depth will be nice. The Yankees are going to lean on their pitching staff more than usual this year, so might as well beef it up as much as possible.
Ben asks: Let's pretend for a moment that you're the GM of a team that has either a protected first round pick or you've already lost it because you've signed a qualifying free agent. Would the thought of signing Kyle Lohse to a one-year deal cross your mind? Consider this: if you do, you lose a second round pick, but if he pitches well then you can make a qualifying offer and be in line to get a BETTER pick than the one you gave up. How long would you entertain that idea before you dismissed it?
Well, isn't that convenient. As I just said, I would absolutely explore signing Lohse at this point. I think draft picks are being overvalued these days, especially by legitimate contenders who are trying to win now. If you're trying to win in 2013 and 2014, adding Lohse is going to help you a helluva lot more than a draft pick in whatever round. The scary part is that these St. Louis journeymen/reclamation types tend to stink as soon as they leave the Cardinals, however. The Jeffs — Suppan and Weaver — are the primary examples. That does make me nervous.
I'm not sure I buy the idea of getting a pick when Lohse leaves — given how his free agency has played out, I'm guessing Lohse would take a qualifying offer in the future, especially since they're expected to climb into the $14-15M range in the coming years — but that's always possible. I certainly wouldn't assume a future draft pick when signing the right-hander. Without knowing what Scott Boras is seeking, I think there's a pretty great opportunity out there for someone to get a bargain with Lohse at this point. The Braves, who already forfeited their first rounder to sign B.J. Upton and have questions at the back of the rotation, should be all over him.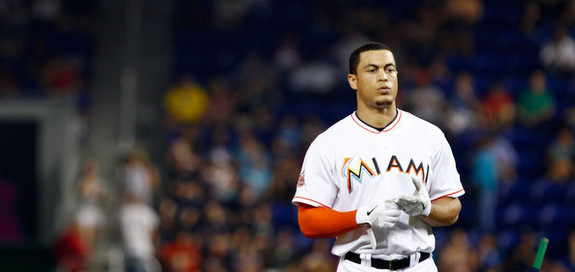 Frank asks: Nonsense (maybe not) hypothetical … If Tyler Austin, Slade Heathcott, and Mason Williams have somewhat outstanding years in AA/AAA, would you trade all three for Giancarlo Stanton, straight up?
Yep, in a heartbeat. Stanton is a proven star at the big league level and is basically in those guys' age range — he's ten months older than Heathcott and less than two years older than Austin and Williams — so it would be both a win-now and win-later move. I said before that I think draft picks are being overrated and I feel the same way about prospects, even top prospects. If you can't trade multiple top prospects for someone like Stanton, who can you trade them for?
As much as we don't want to admit it, those three young outfielders aren't all going to work out. If the Yankees get one above-average big leaguer from that group, they should be thrilled. Two would be a minor miracle. Heathcott is an injury risk because he plays like a maniac, Austin's power ceiling is limited because he doesn't generate enough backspin, and Williams is a bit of a hacker. There are red flags there. Stanton isn't the perfect player, but he fits the Yankees' needs so beautifully. Empty out that farm system.