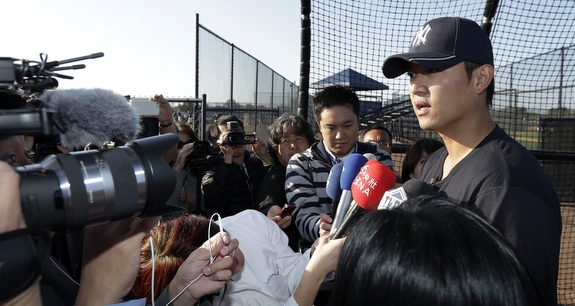 The Yankees had a full day off on Monday and apparently Vernon Wells won't take his physical until tomorrow. The trade should be finalized shortly thereafter, for better or worse. Chien-Ming Wang did have his first workout since signing a minor league deal late last week, though all he did was play catch and field grounders. Afterwards, the the soon-to-be 33-year-old told Chad Jennings it "was an easy decision for me (to return to the Yankees) because I never wanted to leave … It's like back in the day. This was my first team, this is where I started. I feel great." He'll throw his first official bullpen on Wednesday, which means we're unlikely to see him appear in a Spring Training game. Drat.
On the minor league side, Slade Heathcott (patellar tendinitis) returned to the lineup and played a few innings in a minor league game. That's the good news. The bad news is that Tyler Austin suffered some kind of left foot/ankle injury sliding into second base today. He was all wrapped up after the game according to Josh Norris. The Yankees have had some bad luck when it comes to prospects sliding into second base in recent years (David Adams and Ravel Santana, specifically), but apparently it's not a huge deal and he's day-to-day. Exhale.
Anyway, here is your open thread for the night. The Devils are playing and MLB Network will air a Spring Training contest as well. Seems like the Dodgers and Royals will be the matchup du jour. Talk about either of those games or anything else here. Have at it.