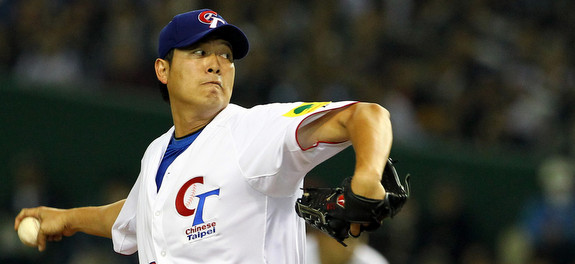 Sunday: The contract is worth $3M at a big league level according to George King and Kevin Kernan. I assume that's pro-rated for the time he's actually on the roster, which is typical. Still a pretty nice chunk of change for Triple-A depth guy. The contract does include an opt-out clause, but the exact date is unknown.
Saturday: The Yankees have announced the signing and it is indeed a minor league contract. No word on how much he'll make if he pitches in the big leagues yet. Wang will speak to the media following a workout Monday morning and will presumably discuss his decision to return to the team and the health of his shoulder. Hopefully we get to see him in a Grapefruit League game before the season starts.
Friday: The Yankees have been searching for a veteran starter to stash in Triple-A, and that search has led them to a familiar name. Jon Heyman reports the club has agreed to sign Chien-Ming Wang to what I assume is a minor league contract. He was in Tampa this week to throw bullpens and showcase himself for the team.
Wang, 33 next week, threw 12 shutout innings for Chinese Taipei in the World Baseball Classic earlier this month. The Yankees were one of a number of clubs to scout him during the tournament — reports indicate his trademark sinker was clocked in the 88-92 mph range — and apparently they liked what they saw enough to bring him in for more workouts. Obviously the two sides are familiar with each other.
Due to numerous injuries, most notably a torn shoulder capsule that required surgery in July 2009, Wang has not been an effective big league pitcher since hurting his foot running the bases in Houston in June 2008. He pitched to a 3.79 ERA (3.90 FIP) with a 60.5% ground ball rate in 628.2 innings from 2005-2008, but since then he's managed a 6.39 ERA (5.12 FIP) with a 53.2% ground ball rate in 136.2 innings. The Yankees are clearly banking on his World Baseball Classic showing being legit.
Wang will join a Triple-A Scranton rotation that will also include lefty Vidal Nuno and righties Adam Warren, Brett Marshall, and Dellin Betances. He'll be able to opt-out of his contract on June 1st if he's not called up to the big leagues thanks to the new Collective Bargaining Agreement, which is a road the team will cross when the time comes. Wang looked pretty darn good in the WBC, but he's still unlikely to contribute much at the big league level. Either way, it's no-risk move with some neato nostalgia involved.