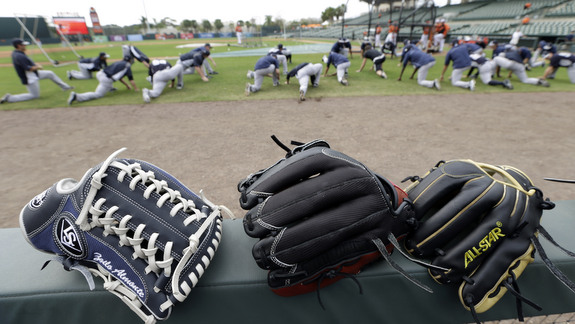 The Yankees were off on Monday and it was a full day off — no bullpens, no simulated games, no batting practice, no fielding drills, nothing. Robinson Cano and bench coach Tony Pena were at George M. Steinbrenner Field for a workout with Team Dominican Republic in advance of the World Baseball Classic, but that's all. Everyone will reconvene tomorrow and play the Braves at 7pm ET.
The big news of the day, which you've surely heard by now, is that Brian Cashman suffered a broken right fibula and dislocated right ankle while skydiving with the Army Golden Knights this morning. He had/will have surgery at some point today and blah blah blah yadda yadda yadda. The GM having to spend a few weeks on crutches is no big deal. The good news is the broken ankle likely brought even greater awareness to the Wounded Warriors Project, which is why Cashman was jumping in the first place. Sucks for him but good in general.
Anyway, here is your open thread for the evening. The Devils and Knicks are both playing tonight, plus MLB Network will be airing some baseball as well. First Spring Training and then the World Baseball Classic overnight. Talk about any of those games or anything else here. Enjoy.