Before the game I asked the Yankees for two simple things: don't fall behind by four runs after two innings and take the lead at some point. They did both and more on Thursday night, winning their first game the season thanks to their two most veteran players.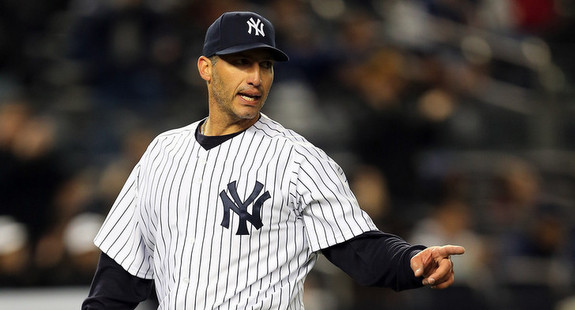 Andy BAMF Pettitte
I was listening to the radio broadcast on my way home, and Suzyn Waldman said Andy Pettitte was 17-3 in 27 career starts in which the Yankees were on the verge of getting swept. Yeah I know, pitcher wins and all that, but I think that stat makes a point. Pettitte is someone the Yankees have leaned on to stop losing streak a whole bunch of times over the years. They did that on Thursday and once again, he came through.
In his first April start since 2010, Andy threw eight-innings of one-run ball and was never really in much trouble outside of the first and seventh innings. He pounded the zone — 64 of 94 pitches were strikes (68%) and he threw first-pitch strikes to 20 of 29 batters faced — with a wide assortment of pitches, mixing four-seamers (25 thrown) with two-seamers (14) and sliders (22) and curveballs (17). He also threw a handful of cutters and changeups. That's a great way to keep hitters off balance. Seventeen of his 24 outs were recorded on the infield and nine of the 24 were recorded on three pitches or less.
Starting pitching is supposed to be New York's strength but neither CC Sabathia nor Hiroki Kuroda pitched all that well in the first two games of the year (obviously Kuroda's start was cut short due to injury). There was Pettitte, once again, to restore some order on Thursday. This isn't some feel-good story where "hey great, Andy's back." That was last year. This is serious "the Yankees need him to be good if they want to compete" stuff. Andy was dynamite against the Red Sox and the team absolutely needed it. What a stud.
What's This, A Lead? Are They Allowed to Do That?
You can't win a game if you don't take the lead, and the Yankees took their first lead of the season — and first since Game Five of the ALDS — on Lyle Overbay's first pitch, two-out, two-run single in the second inning. Of course, they might have taken the lead one batter earlier had Eduardo Nunez's double to right-center field not hopped over the wall for a ground-rule double. I'm not sure if Travis Hafner would have scored from first on that play, even with two outs, but it sure felt like a bad hop that robbed New York of a run. Needless to say, Overbay's solid single to left-center was a huge pick-me-up (and relief).
Brett Gardner extended the lead one inning later, when he jumped all over Ryan Dempster's first pitch of the third inning for a solo homer to right. It was a total Yankee Stadium cheapie, first row of seats and everything. He had two hits and a walk, which is exactly what I was talking about earlier on Thursday. The table-settlers have to get on-base for the big boys in the middle of the lineup. Gardner scored a run on his own with the homer, but getting on-base in general is the most important thing for him. That solo shot gave the Yankees a three-zip lead and for the first time in a long time, things seemed to be going right for a change.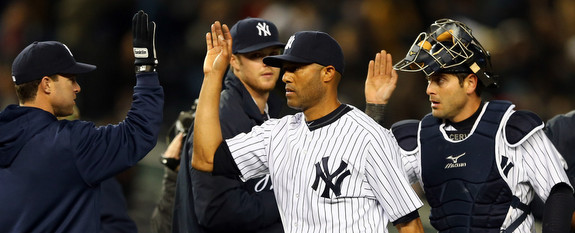 Mariano's Return
Thanks to last season's knee injury, Mariano Rivera went 336 days between pitching appearances at Yankee Stadium. The offense handed him a three-run lead and although Mo surrendered a run in the ninth inning — walk, double moved the runner to third, ground ball brought him home — he looked like the same old Rivera. That means cutters to both sides of the plate, including a backdoor job to Jackie Bradley Jr. to freeze the rookie for strike three and the 27th out.
It hadn't really hit me yet that this is Mo's final season until he was actually out on the mound in a regular season. I saw the press conference and the Spring Training appearances and all that, but seeing him on a big league mound was a different animal. I still don't think it has fully hit me yet; I was thinking about what it will be like to watch him throw his final pitch in a few months, and man is that going to suck. I'm going to enjoy every single Rivera appearance this summer regardless of what the team does. He's a treasure.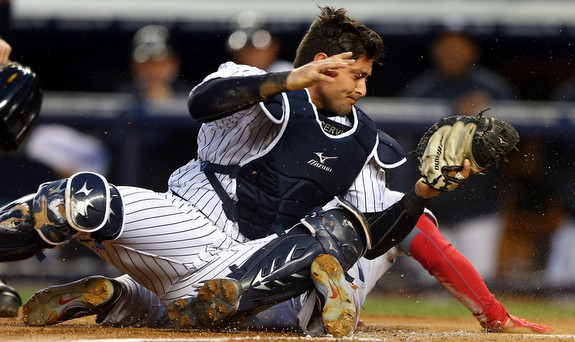 Frankie's "Great Play"
I have to talk about this because it bothered me. The Red Sox had runners on first and second with two outs in the first inning when Pettitte bounced a first pitch curveball to Jonny Gomes. The ball scooted through Frankie Cervelli's legs and to the backstop, allowing the runners to advance. The lead runner (Shane Victorino), tried to catch everyone napping and hustled around third and tried to score. Cervelli picked up the ball and raced back to the plate, diving to apply the tag for the out at the dish. It was a crazy play and a great play, but a great play borne out of Frankie's laziness.
If you haven't seen the play, here's the video. The pitch goes through Cervelli's legs and he completely lollygags it when he goes to retrieve the ball. The only reason Victorino went home was because Frankie half-assed it and he thought he could beat him to the plate. He almost did beat him to the plate, in fact. The lack of hustle will be completely forgotten (and largely went unnoticed) because hey, great play!, but seriously. Let's run through the checklist quickly…
The Yankees lost the first two games of the season and neither was particularly close.
The Red Sox were threatening to take an early lead yet again.
Cervelli spent all of last season in the minors, in part because of his defense.
Cervelli has a golden opportunity to win the starting catching job outright considering his competition.
If there was ever a time to hustle after a simple wild pitch, this was it. Francisco, run after the damn ball next time. Good grief.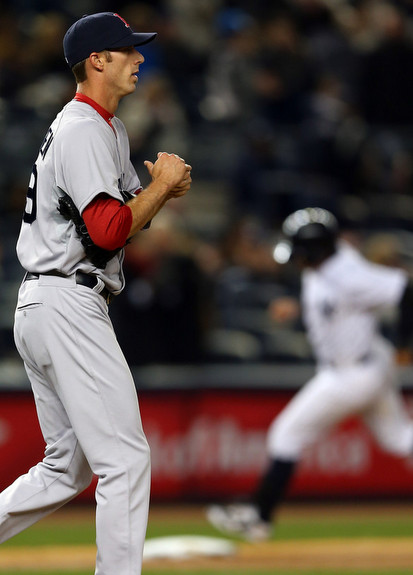 Leftovers
Now that I've sufficiently torn into him for a lack of hustle, it's time to praise Cervelli for one hell of a game at the plate. He saw 17 pitches in three plate appearances and actually hit a homer in addition to drawing a walk. The homer was a bomb too. It was no Yankee Stadium cheapie like Gardner's, it landed right at the back wall of the visitor's bullpen in left-center field. I have to think it was the farthest ball he's ever hit at the big league level. Nice night at the plate, but still, run it out next time Frankie.
Gardner got caught trying to steal second base in the very first inning, which was rather annoying for a few reasons. One, Robinson Cano didn't get a chance to bat with a man on-base. That's the main thing. Two, catcher David Ross has thrown out 44% (!) of attempted base-stealers the last four years. Three, Dempster just walked the first batter of the game. You gotta let him show he's not having an off-night and won't work himself into trouble. Nitpicking, I know, but if the Yankees are going to rely on speed and smallball tactics this year, they've gotta be smart about it. No need to force the issue that early in the game.
While on the subject, the Yankees made three outs at second base in this game. Gardner was caught stealing, Nunez was caught stealing, and then Gardner was thrown out trying to stretch a single into a double. A full inning's worth of outs on the bases. Yuck. Smallball shouldn't replace smartball.
Kevin Youkilis and Hafner each had a single and a strikeout while Cano and Ichiro Suzuki each drew a walk. Vernon Wells took an 0-for-4. Cano is in an early-season funk in the sense that he's chasing pitcher's pitches on the outer half and pulling them right into the teeth of the shift. It's basically exactly what happened in the postseason last year plus a new shift. Hopefully he'll knock himself out of it soon.
Box Score, WPA Graph & Standings
MLB.com has the box score and video highlights while FanGraphs has some additional stats. ESPN is the place for the updated standings.

Source: FanGraphs
Up Next
Very quick turn around for the Yankees, who fly to Detroit tonight and play the Tigers at 1pm ET tomorrow. Nice one, schedule makers. The pitching matchup for that one will be Ivan Nova and Doug Fister.