Four questions for you this week, the first mailbag of the new season. Remember to use the Submit A Tip box in the sidebar to send us any questions or comments or links throughout the week.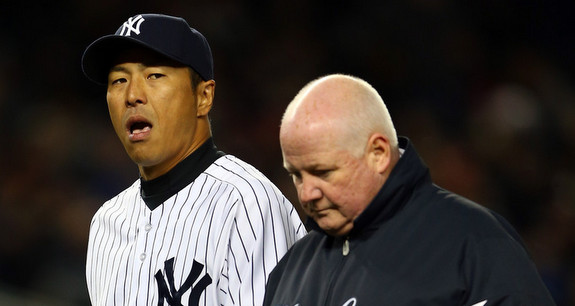 Evan asks: How many Yankees do you see getting qualifying offers after this season? I would think Phil Hughes, Curtis Granderson, Robinson Cano, Hiroki Kuroda, and outside chance of Kevin Youkilis if he continues to hit the ball like he has this spring (unlikely but a possibility). Is it worth getting excited that between this year and next year the Yanks could really build a top-five farm system?
The qualifying offers were worth $13.3M last winter but they will go up this coming offseason. They're based on the average of the previous year's top 125 salaries, and salaries are only going up. Estimates for qualifying offers this winter are in the $15M range and that's a big chunk of change.
Cano is the only no-brainer of the group. He could hit like .270/.330/.430 this year and they would still make him a qualifying offer because of his track record (and the fact that it's only a one-year deal). I'm of the belief that they'll sign him to an extension before that times comes, rendering the qualifying offer idea moot, and I thought that even before the recent agent change.
Assuming the other four guys play as expected — league average year from Hughes, 35+ homer pace from Granderson, sub-4.00 ERA from Kuroda, .360 OBP and 20 or so homers from Youkilis — I don't think any of them would get qualifying offers. Kuroda probably has the best chance, but he would need to repeat last year's effort again. I do think Hughes will get a nice big free agent contract (four years, $56M?), but teams tend to be risk-averse in these situation. I think the Yankees would pass.
Granderson, assuming he looks like 2012 first half Curtis and not 2012 second half Curtis once healthy, would be awesome on a one-year, ~$15M contract. That's in a vacuum though, not for a team trying to cut payroll. Given that plan to get under the $189M luxury tax threshold by 2014, I think the Yankees will play it very safe with the qualifying offers and not risk any huge (and unwanted) one-year contracts. Cano's the only qualifying offer lock if he makes it to free agency.
Mark asks: Should the Yanks start to rethink their austerity plan in light of the recent extensions just signed by Justin Verlander and Elvis Andrus? Once/if Clayton Kershaw signs an extension with the Dodgers, I'm not sure who the Yanks will be targeting with all their unspent salary dollars after they reach their magical $189 million limit next year.
Yeah, same here. The Yankees are cutting back on spending at a time when the game is flush with cash and other teams are spending more than ever. It's a poorly timed, poorly conceived, and (to date) poorly executed plan on their part. The Yankees have a natural advantage over the competition because of their market and they're choosing to ignore it. That's fine, ownership can do whatever they want, but fans don't have to like it.
Free agency as we know it is changing due to these extensions, but I do think someone like Scott Boras will see this as an opportunity. He could be the only guy with star players in free agency the next few years, creating a quasi-monopoly on high-end talent. Teams will still want to acquire star players every winter and if only one or two are available in free agency, the bidding war will be fierce.
If the Yankees do decide to reinvest some of the saved cash in the team down the line, I'm not sure where they could spend it outside of really overpaying free agents or their own players. Then  again, I don't expect the Yankees to reinvest that cash anytime soon. This strikes me as a pure money-saving move on the team's part.
Jeff asks: Assuming he has no setbacks, what's a best case scenario for Ty Hensley in regards to innings pitched this year?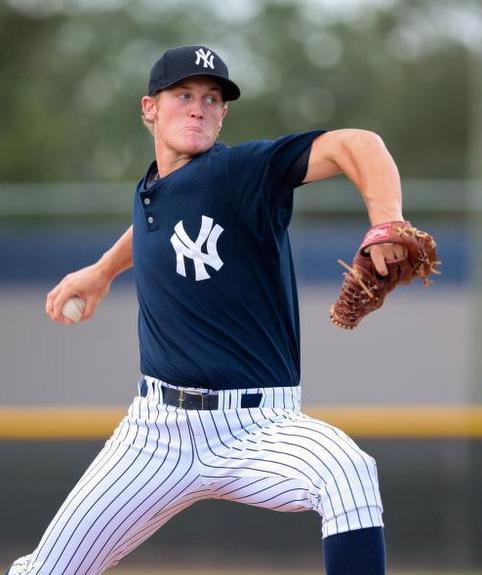 Well, the Yankees are Team Setback, so I'm not sure that's a safe assumption. Hensley had surgery to repair an impingement in his right hip earlier this week — that means the head of his femur was misshaped (I learned that thanks to Alex Rodriguez) — and his reportedly timetable is 2-3 months. Given his age and prospect status, I'd bet lots of money on the Yankees being conservative with his rehab.
So, let's say he takes the full three months and returns to the mound in early-July. Hensley would likely join either Short Season Staten Island or Low-A Charleston, who would then have about ten weeks left in their season. Starting every fifth day with an average of five innings a start puts him in line for 60-70 innings this year. Add in a playoff start or two and maybe he gets up to 75. That's not too bad, but I'll take the under just because I expect the Yankees to be conservative. If Hensley can get 50 innings under his belt after surgery this summer, I'll consider it a win.
Travis asks: Do you think the Yankees are gun shy about bringing prospects up (position player prospects)? I feel that ever since the Melky Cabrera promotion, they have been hesitant.
Yes and no. I say no because the Yankees haven't had too many position player prospects worth calling up — every club has Melky Mesa and Corban Josephs, they aren't special — in recent years. The only real egregious example was Jesus Montero in 2011, when it was obvious the team needed a new DH by like, mid-May. Obviously Jorge Posada was a legacy player that situation was more complicated that the typical call-up.
That said, I do agree they are gun shy about promoting prospects to the big leagues in general. I think there's a fear of failure on the team's part, which might stem from the Ian Kennedy/Phil Hughes disaster in 2008. That seems like the traumatic event that scarred the team, so to speak. I'm not saying they should have used Adam Warren instead of signing Hiroki Kuroda or anything like that, but for a team that has preached player development and austerity in recent years, they sure do have a knack for not giving young players a chance unless it's an absolute emergency.