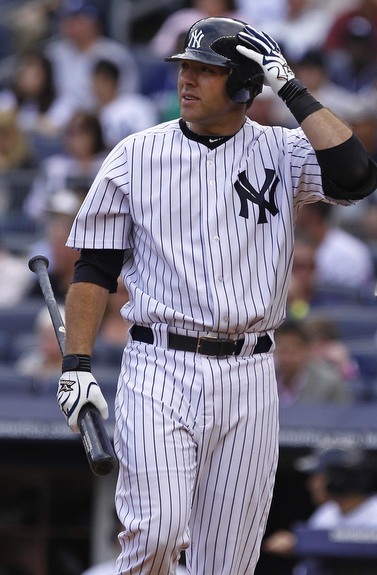 The Yankees have a knack for holding fake Spring Training competitions, and Austin Romine was on the outside looking in at this spring's catching competition. Frankie Cervelli and Chris Stewart were going to open the year as the team's catching duo while Romine headed to Triple-A, which was for the best given his back trouble these last two seasons. He missed a lot of development time and was in need of regular at-bats.
A little less than four weeks into the season, the 24-year-old Romine is with the big league team thanks to Cervelli's fractured hand. He started his first game last night after two on the bench, going 0-for-3 with a strikeout and a hit-by-pitch at the plate while struggling to get on the same page as Andy Pettitte. There were an awful lot of shake-offs and mound conferences, which is not the norm with Pettitte. He's very much a "get it and throw it" guy.
"I don't want to throw too much at him too quickly," said Joe Girardi to Chad Jennings over the weekend when asked about Romine and the pitching staff. "I want him to get familiar with the guys that are here. He has a sense of who they are. He's had a chance to catch all of them at some point in Spring Training, whether it was a side or a game in the minor leagues, but you want him to be familiar with the guys."
Girardi previously indicated he will figure out the catching workload as they go in the wake of Cervelli's injury, which is what he said about Cervelli and Stewart prior to Opening Day. Frankie came out of the gate hitting well and had unofficially taken over as the starting backstop less than two weeks into the season. Romine has the same opportunity staring him in the face — if he hits, Girardi has shown he will pencil him into the lineup on a near-everyday basis.
"Anytime you get any type of (playing time), you have to show them what you can do," said Romine to Jennings after being called up. "I'm going to take whatever time I do have here and I'm going to show them that I can do it. I can handle it back there, I can handle pitching staff and I can swing it at the plate."
Romine managed a .271/.341/.377 (~101 wRC+) batting line in 508 minor league plate appearances from 2011-2012, and Baseball America wrote "scouts used to project him to hit 15-20 homers annually due to his raw power but didn't see the same snap in his bat in 2012" in their 2013 Prospect Handbook. Tomine told Mark Feinsand he ditched his leg kick and worked on shortening his stride with Triple-A hitting coach Butch Wynegar this month, which may have contributed to his .333/.391/.405 (129 wRC+) line before the call-up. It was only 46 plate appearances though, so I wouldn't get too excited.
Much like Cervelli before the injury, Romine has a golden opportunity to take the catching job and run with it. There's an obvious need behind the plate both this year and over the next several years, assuming the team is putting all of its eggs in the Gary Sanchez basket. Cervelli will be out a minimum of six weeks, and Romine is going to need to massively outplay Stewart during that time if he plans on sticking around the rest of the year and put himself in the running for the long-ish tern catching job. This opportunity probably came a few months too soon, but he'll have to make the best of it.