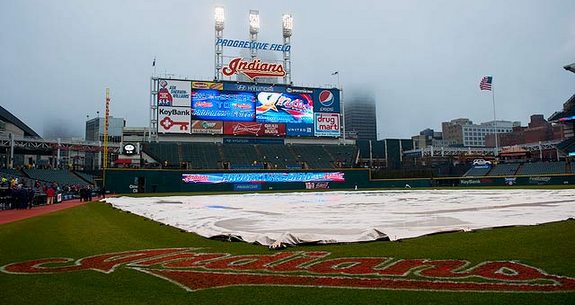 Despite back-to-back rain outs in Cleveland these last two days, the Yankees will not alter their rotation heading into this weekend's series against the Orioles. CC Sabathia, Hiroki Kuroda, and Andy Pettitte will start the next three games in that order, meaning Phil Hughes is having his start skipped just like Ivan Nova. Hughes told Meredith Marakovits he'll be available out of the bullpen this weekend, which is pretty awesome actually. He's always been very effective in relief. Monday's off-day affords the team some extra pitching flexibility as well. Hughes is currently scheduled to start Tuesday against the Diamondbacks pending his usage this weekend.
Meanwhile, the Yankees will have to trek back to Ohio to make up not one, but two games at some point this summer. They share only four common off-days with the Indians, not counting the Thursday following the All-Star Game and the day between the end of the regular season and the start of the postseason…
Monday, April 15th
Thursday, May 2nd
Monday, May 13th
Monday, September 23rd
April 15th is this coming Monday, right smack in the middle of a six-game homestand. May 2nd and September 23rd are also right in the middle of homestands while the Yankees will be traveling from Kansas City back to New York on May 13th. I think there's a pretty good chance they'll schedule a doubleheader for one of those dates and bang out both games at once. September 23rd is probably the most preferably makeup date in terms of reducing the number of consecutive days with a game (from the Yankees' perspective) since they have both the prior and following Monday off.
Now here's where things get really messy: it's supposed to rain all day in New York tomorrow. The heaviest stuff is expected in the morning, but the forecast right now says the showers will continue through the night. Three consecutive rain outs (in two different cities) would be pretty crummy. Not only would the bombers have three postponed games to make up just two weeks into the new season, but you also have to worry about the hitters losing their rhythm and what not. The Yankees' bats did some major damage on Monday and Tuesday and I really would like that to continue. Nothing they can do though, the weather is the weather. Unfortunate timing.