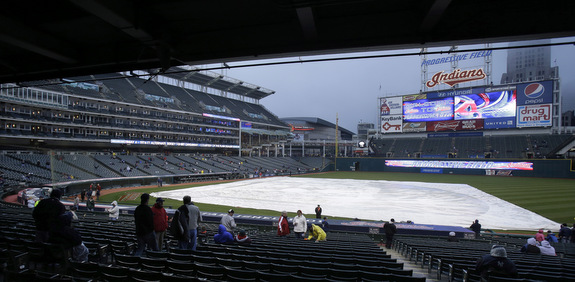 The Yankees and Indians were rained out last night, and unfortunately tonight's forecast isn't looking any better. If anything, it actually looks worse. Timing is everything though, so maybe the rain will hold off long enough for them to squeeze the game in before returning back to New York.
Because the Yankees do not make another trip to Cleveland this year, I wouldn't be surprised if they waited as long as possible to get this game in. Remember two or three years ago when that game against the Orioles started at like, 11:45pm ET? Something like that. Then again, it is only April, maybe they won't wait around as long and instead worry about the scheduling later. I just don't want an older roster to lose too many precious off-days during the summer. On the other hand, every game postponed this month is one fewer game the Yankees will have to play without Derek Jeter, Curtis Granderson, Mark Teixeira et al. Here's the starting lineup…
CF Brett Gardner
2B Robinson Cano
3B Kevin Youkilis
DH Travis Hafner
LF Vernon Wells
RF Ichiro Suzuki
SS Eduardo Nunez
1B Lyle Overbay
C Frankie Cervelli
And on the mound is the one-time All-Star, Phil Hughes.
Tonight's game is scheduled to start a little after 7pm ET but the rain, blah blah blah yadda yadda yadda. You can watch this one on YES locally and MLB Network nationally whenever it does begin. Enjoy.
Rotation Update: The Yankees have already sent CC Sabathia, Hiroki Kuroda, and Andy Pettitte back to New York so they wouldn't have to wait around for the rain with the rest of the team in Cleveland. The trio is scheduled to start against the Orioles this weekend.
Mark Teixeira Update: Teixeira and his injured wrist will be re-evaluated tomorrow and he hopes to be cleared to swing a bat. If he is, he'll start with a fungo bat and gradually work his way up. He's optimistic he'll be able to take full batting practice next week and play in Extended Spring training soon thereafter.
Update (6:39pm): The game will not start on time, it was just announced. It hasn't started raining yet in Cleveland, but it will soon. No word on a tentative start time. This … might be a while.
Update (8:07pm): They're saying the game will start at 8:30pm ET.
Update (8:34pm): Apparently the ceremonial first pitch has been thrown and the lineups have been announced, but the tarp is still on the field. Okay then.
Update (8:55pm): Indians closer Chris Perez said the game has been postponed on Twitter. No official word yet.
Update (9:02pm): Yep, the game has officially been postponed. Same deal as yesterday's game, meaning no word on a makeup date.