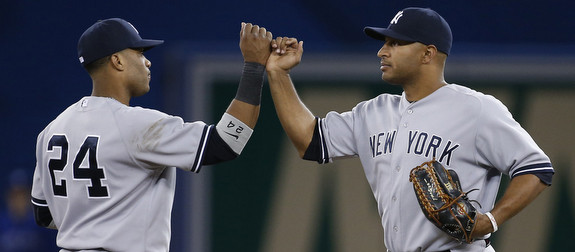 The Yankees put a good hurtin' on the Blue Jays last night, but this is baseball and yesterday's score doesn't mean anything. The Jays are desperate to prove they are legit and aren't going to simply roll over following one blowout loss. These two teams will play each other six times in the next nine days, so this is as good a time as any for Toronto to prove themselves as AL East threats.
As for the Yankees, they just have to continue to weather the injury storm. They've done a pretty good job of that lately, winning eight of their last ten games. Here's the lineup that will face finesse lefty Mark Buehrle…
CF Brett Gardner
DH Ben Francisco
2B Robinson Cano
1B Kevin Youkilis
LF Vernon Wells
C Frankie Cervelli
RF Ichiro Suzuki
SS Eduardo Nunez
3B Jayson Nix
And on the mound following his complete-game shutout of the Orioles, Hiroki Kuroda.
Apparently it's snowing in Toronto, so the Rogers Center roof will be closed. This afternoon's game is scheduled for 1:07pm ET and can be seen on YES. Enjoy.