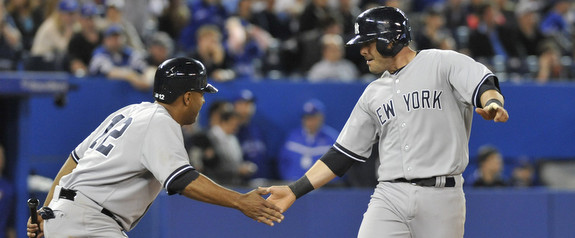 It's early, but the Yankees have yet to sweep a non-rain-interrupted series this year. They had a chance to sweep the Diamondbacks last week before dropping the finale in extra innings, and they'll have another chance to sweep a three-game series today. There would be no better time for that first sweep of the year than this afternoon, against a Blue Jays team that fancies itself a contender following a big offseason. They've been wholly unimpressive in the early going — only the Marlins (-42) and Astros (-33) have a worse run differential than Toronto (-32) — but I think we all know that could turn around in a hurry.
Here's the lineup that will face right-hander Josh Johnson, one of the Jays' biggest offseason addition both figuratively and literally (he's listed at 6-foot-7 and 250 lbs.)…
CF Brett Gardner
2B Robinson Cano
LF Vernon Wells
DH Travis Hafner
1B Lyle Overbay
SS Eduardo Nunez
RF Ichiro Suzuki
3B Jayson Nix
C Chris Stewart
And on the mound for the Yankees is right-hander Ivan Nova, who is seeking his second straight victory. This afternoon's game is scheduled to start at 1:07pm ET and can be seen on YES. Enjoy.