Six questions this week, but some of them have short answers. Use the Submit A Tip box in the sidebar to send us any questions or links or anything else during the week.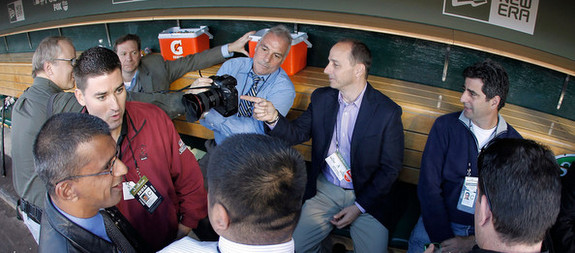 Shai asks: If the Yankees do poorly this season, I can see the media/fans calling for Brian Cashman's head. Do you think that Hal Steinbrenner would fire him if under intense public pressure?
Cashman and Hal reportedly have a great working relationship, but who really knows how things are behind the scenes. I would be surprised if Cashman — or Joe Girardi, for that matter — was essentially made the scapegoat and fired at some point this year. I don't think Hal really cares about the public pressure and frankly no owner should when it comes to on-field matters. How many times have we wanted people fired over the years? If the owner acknowledged public pressure there would be a new manager every other week. Cashman could be fired if the team plays poorly, it could definitely happen, but it would surprise me.
Brad asks: Will Ichiro Suzuki and Vernon Wells platoon upon Curtis Granderson's return?
My standard answer to the "what happens to everyone when so and so gets healthy" question is let's wait to see everyone involved actually be healthy at the same time before we worry about it. I think that is especially true with the Derek Jeter/Eduardo Nunez and Kevin Youkilis/Alex Rodriguez situations. Worry about who plays when and where when the time comes.
Now, for the sake of argument, let's assume Granderson returns as expected in early-May and everyone else in the outfield picture is healthy as well. The obvious move to free up a roster spot would be optioning Brennan Boesch down to Triple-A, replacing one lefty bat with another. That's the easy part. After that, I think it depends entirely on who is playing well at the time.
Obviously Granderson will step right back into the lineup, but if Ichiro continues to not hit while Wells continues to produce, I do think Ichiro will wind up on the bench more often than not. If the roles are reverse when Grandy is ready, then I think Wells would sit. I don't really see Brett Gardner being in danger of losing playing time. I think Girardi is just going to ride the hot hand, which is fine by me.
Mike asks: What is going to happen with the impending minor league catcher backlog? Eventually Gary Sanchez will be promoted to AA but that will take away time from J.R. Murphy who can't move to AAA due to Austin Romine needing to play everyday. Who is most likely to be trade bait?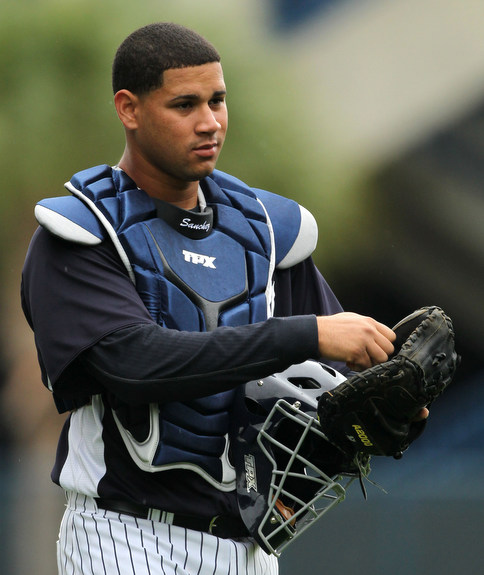 I don't think there is much of a backlog, really. I think both Murphy and Sanchez will get promoted at midseason, and then Romine and Murphy will simply share catcher/DH duties for the second half in Triple-A. The Yankees have done that plenty of times before with their catchers, specifically Romine and Jesus Montero. I think Murphy and Sanchez even did it at one point as well.
I wouldn't worry too much about playing time, all of these guys are high priority players in that sense. They'll figure out a way to make sure they all get regular at-bats and enough time behind the plate. I suppose it's not out of the question that Romine replaces Chris Stewart as the backup catcher later in the season (as part of the chain of promotions), but that would surprise me. The Yankees are enamored with Stewart for whatever reason. Anyway, as these things tend to do, it'll work itself out. Don't worry. Too many catchers is a good thing.
Mikey asks: Even though it's early in the season, do you think the Yankees would be hesitant to make an upgrade over Lyle Overbay?
No, I don't. I also don't think it's a huge priority right now. Mark Teixeira could be cleared to swing a bat today and begin playing Extended Spring Training games within two weeks. Overbay has been pretty awful with the bat but he has played well on defense. So yeah, I do think the Yankees would be willing to acquire a temporary first base upgrade, but I also don't think they're actively shopping for help at the position. If someone hits waivers or something, then they might pounce.
Anonymous asks: Not that the Yankees would trade him, but does Andy Pettitte have ten-and-five rights? Did his year off in 2011 reset the five-year clock?
The rulebook says ten-and-five no-trade provisions kick in "provided the player has spent the last five years with his current team," so I guess that means the year off does reset the five-year portion of the criteria. It doesn't say anything about the five years being continuous though, so I guess it's open to interpretation. Pettitte and his agents would argue he has ten-and-five rights while the team would argue against them. Like you said though, the Yankees aren't trading Pettitte. If they suck this year, he'll go down with the ship.
Jacob asks: Given the Robinson Cano situation, when was the last time the Yankees traded away a homegrown star that was clearly their best player because they were out of the playoff race?
Forget homegrown and out of the playoff race, when was the last time the Yankees traded away their best player period? The only example I can come up with is Rickey Henderson in 1989. He piled up 3.5 bWAR in 65 games before being traded that June while the team leader ended up being Steve Sax with 4.4 bWAR (in 158 games). There was some animosity between Rickey and George Steinbrenner at the time, which led to the trade.
Other than that, I can't think of an instance where the Yankees traded their best player. Gary Sheffield and Roberto Kelly weren't the team's best player at the time of their trades, and neither was Bobby Murcer back in 1974. Maybe I'm forgetting someone obvious, but I think the point stands: the Yankees aren't in the business of trading their best players. They're in the business of acquiring other teams' best players. I fully expect them to work out some kind of monster extension with Cano this summer and make the whole thing moot.