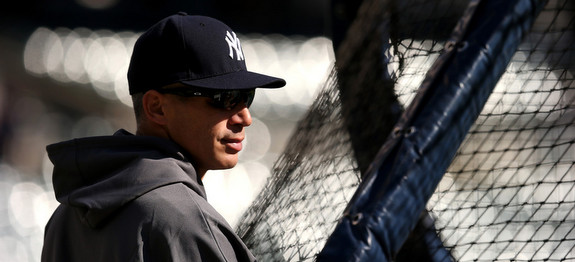 You thought this was just another early-season game, but no. Joe Girardi is managing his 1,000th big league game tonight, which is kind of a big deal. He is 574-425 (.575) all-time, including 496-341 (.593) in 837 games with the Yankees. Girardi is sixth in games and seventh in wins among Yankees managers, and he'll likely climb into sixth on the wins list before the end of the month. Here's the lineup he filled out for tonight's game against the Athletics and right-hander A.J. Griffin…
CF Brett Gardner
2B Robinson Cano
LF Vernon Wells
DH Travis Hafner
RF Ichiro Suzuki
SS Eduardo Nunez
1B Lyle Overbay
3B Jayson Nix
C Chris Stewart
And on the mound is the guy who signed a letter of intent to play football at the University of Hawaii way back in the day, left-hander CC Sabathia.
Lovely weather in New York, so there will be no issues getting this game started at 7:05pm ET as scheduled. You can watch on YES. Enjoy.
David Robertson Update: Robertson (hamstring) feels better but is not available today. He doesn't expect to miss more than "a couple of days." The Yankees are off on Monday, so I'm guessing we don't see him at all this weekend.
Roster Moves: As expected, Corban Joseph was optioned to Triple-A Scranton to clear a spot on the roster for the recently acquired Chris Nelson. Preston Claiborne was officially called up to replace the injured Joba Chamberlain. Cody Eppley was designated for assignment to clear room on the 40-man roster.