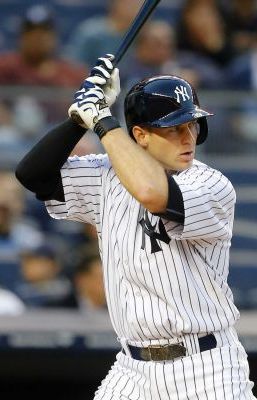 Chris Nelson's brief tenure in pinstripes has come to a rather unceremonious end. Kevin Youkilis and Alex Rodriguez continue their respective paths to recovery. All of this adds up to a golden opportunity for rookie third baseman David Adams to showcase his skills for fans and scouts alike.
Adams, who was drafted in the third round by the Yankees back in 2008, has had some positive moments during his time in the minors. In 2012 he hit .306/.385/.450 (.377 wOBA, 133 wRC+) over 383 plate appearances with the Yankees AA affiliate after missing substantial time during the couple years prior. Up until a few nights ago when he got the call from the Yankees, he was hitting a fairly gaudy .316/.407/.490 (.407 wOBA, 153 wRC+) over 113 plate appearances in AAA. What's more, the kid managed to get a hit during his big league debut and doubled in a run in his second game. Unfortunately, as I alluded too in Thursday's RAB Live Chat and in the post's title, my expectations for Adams are fairly tempered. Here's why I think yours should be too.
1. It's really hard to succeed in the Major Leagues in general. It's really, really hard to sustain success once you do succeed. It's especially hard for a young (and in this case, non-elite) prospect to join a MLB franchise and immediately have an impact with sustained success — especially when said player knows he's probably a stopgap (though with Youk and A-Rod, the timetable may prove more substantial). This first point is kind of obvious, but I feel as though it's still a point we fail to remember all too often regardless of the player's pedigree.
2. Offensively, Adams displayed an advanced approach at the plate with good gap power during his time in the minors. He won't be facing minor league pitchers anymore though. He'll be facing experienced arms, and he'll have to make the necessary adjustments as his weaknesses get exposed. This is not to say he can't or won't have an effective bat, just that we shouldn't be overly surprised if his production deflates. One need only remember Jesus Montero for an example of an offensively potent minor leaguer who has been unable to adjust. Small mechanical flaws become big points of vulnerability. It happens, and it happens more often than not.
3. Adams was recruited as an above-average second baseman defensively. The ankle injuries have robbed him of his mobility, so much so the team moved him to third (although that may have also been partially influenced by A-Rod's injury), where's he's also viewed as defensively mediocre if not substandard. If Adams struggles at the plate, his defense will be that much more important, and unfortunately for him, that much more scrutinized. The Yankees cannot afford to have a black hole in the line up — they'll need Adams to prove himself capable at least in this department.
Note by Mike: I've been pleasantly surprised by Adams' defense so far. He's no Adrian Beltre, but he's been rock solid. At this point he's probably the best defensive third baseman in the organization.
4. The injuries scare the crap out of me, quite frankly. Basically, since joining the organization, Adams has had a hell of a time staying on the field. Aside from showing dubious durability, he's missed valuable developmental time — so much so the Yankees released him altogether to make room on the roster for Vernon Wells. In fact, at one point, he was playing four games in a row with a day off on the fifth during his time in the minors. The daily grind won't get any easier with the Yankees. If he's going to obtain a contract with a Major League team, he's going to need prove himself capable of staying on the field — a trait often underappreciated.
Now, please don't get me wrong. I'm not trying to come across as completely bearish on Adams. As I noted above, he does have a solid approach at the plate, and the team will give him every opportunity to succeed. Plus he seems like a fun player to root for. Frankly, I hope he proves me dead wrong and thrives because that'd be awesome; it'd give the team options to consider on a lot of different levels. The point I'm trying to make here is that we shouldn't endorse one of our home grown kids too heartily until he has some time to establish himself — honestly, the same should probably be said about all prospects in general.