Mariano Rivera suffered a season-ending knee injury when the Yankees visited Kansas City last May, but this May he helped the team finish off a three-game sweep of the Royals. Sunday afternoon's 4-2 win was New York's fifth straight victory and 22nd in the last 31 games.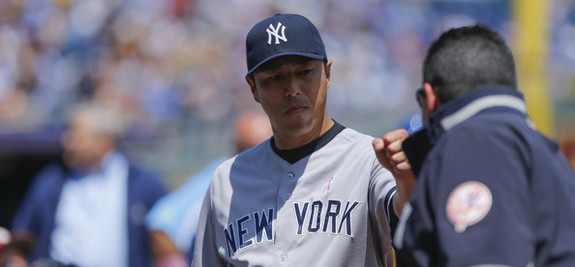 #HIROKstar
Coming into Sunday's start, six of the eleven runs Hiroki Kuroda had allowed this season came in the first inning. He following that script against the Royals, allowing a first inning run on a double, a bunt, and a sacrifice fly, but after that he was money. Kuroda retired the next 12 and 17 of the next 19 batters he faced before running into some problems in the eighth. Kansas City scored their second and only other run on a double and an RBI ground out in that inning.
Kuroda allowed the two runs in 7.2 innings, surrendering just six hits and one walk. He struck out only one batter and got just a dozen ground ball outs compared to ten in the air, so this one probably made you grimace if you live and die by DiPS Theory. It was pretty obvious Kuroda was sharp despite the general lack of strikeouts and ground balls, so don't sweat the small stuff. The Yankees got another strong performance from their rotation, and that's all that matters.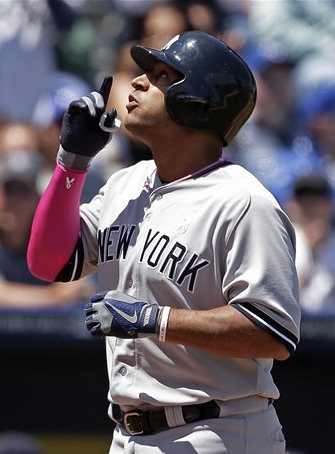 Back-to-Back
The Yankees scored all the runs they would need in the third inning, when Robinson Cano and Vernon Wells used the pink Mother's Day bats to whack back-to-back homers off right-hander Ervin Santana. Cano's was a bit of a golf shot — he had to go down and get a pitch that came in around his knees. Chris Stewart singled two batters prior, so that was a two-run shot. Wells jumped all over a fastball for a rocket solo homer down the line.
The fourth run was a much-appreciated insurance run, which was made possible by Brett Gardner's leadoff double. Wells brought him home with a two-out single to left. Verndog has had himself one hell of a road trip, going 3-for-4 with the homer in this game and 9-for-25 (.360) with three homers in the six games so far. To think, I said he was in a slump less than one week ago. Timing, I has it.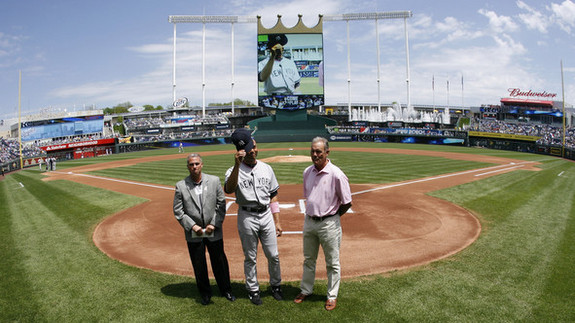 Leftovers
About the only negative of this game was the (completely necessary) use of David Robertson and Mariano Rivera. Both have pitched in four of the last five games, meaning they might not be available at all during Monday's doubleheader. Robertson did only throw two pitches on Sunday though, so maybe Joe Girardi will be willing to squeeze an inning out of him on Monday if needed. Either way, the duo closed the door after Kuroda.
The wrap-around 9-1-2-3 part of the lineup went a combined 8-for-15 (.533) on the afternoon while the other five lineup spots went 1-for-20 all together. Cano and Stewart had two knocks apiece while Wells chipped in a stolen base for good measure. He advanced to third on the play when the throw got away from the infielder. He was pretty close to a one-man wrecking crew this weekend.
Final Note: Kuroda got into a bit of an argument with home plate ump Laz Diaz while exiting the game. There were some goofy ball/strike calls during his final at-bat of the afternoon, and he gestured towards the ump on his way off the field. Diaz barked back, but that was it. No ejections or anything. This is only notable because I can't ever remember Kuroda getting into it with an ump. He's very mild-mannered.
Box Score, WPA Graph & Standings
MLB.com has the box score and video highlights, FanGaphs some other numbers, and ESPN the updated standings. The division lead is up to two games in the loss column.

Source: FanGraphs
Up Next
The Yankees are off to Cleveland for that quick doubleheader against the Indians to make up last month's rain outs. The scheduling is pretty tight — game one is set for 12:05pm ET (David Phelps vs. Justin Masterson), then game two will follow at 3:35pm ET (Vidal Nuno vs. Trevor Bauer) — so they won't have to hang around very long before returning home Tuesday.