Series win over the Rangers? Winning homestand?? A run??? Nope, nope, and nope. The Yankees didn't get any of that on Thursday afternoon, as Derek Holland and the rest of the Rangers cruised a stress-free 2-0 win.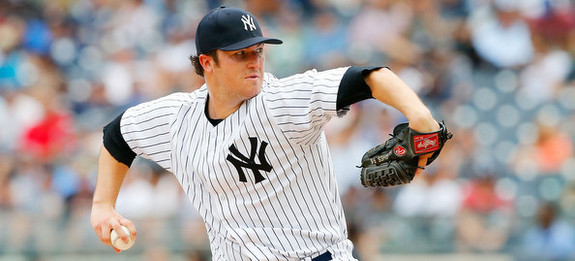 Wasted Effort
The Yankees needed to see some improvement from Phil Hughes on Thursday after his recent dreadful performances, and improvement is exactly what they saw. Hughes held the Rangers to two runs on five hits, one walk, and one hit batsman in eight innings, and the first run required a blown check swing strike three call to get the runner on-base in the first place. Jurickson Profar hit the #obligatoryhomer, a solo shot in the fifth, after scoring the first run on an Ian Kinsler sac fly in the third. That's all they got.
Hughes threw 72 of 106 pitches for strikes (68%), including a first pitch strike to 18 of 29 batters faced. That actually lowered his season first pitch strike rate, which was the very best in baseball at 70.8% coming into the start (min. 50 IP). Outside of the third inning rally and the homer, Phil allowed just one batter to reach second base and none to reach third base. He retired 11 of the final 12 men he faced, and the one exception was an infield single off a diving Alberto Gonzalez's glove. The Yankees made no indication Hughes was pitching for his job on Thursday, but if he was, he certainly put that talk to bed for at least a little while. He was great, and it's worth noting that he was working on extra rest.

Video Game
I don't know how many of you play MLB 13: The Show, but you know how you can cruise through a start on like, 85 pitches? That was Holland on Thursday. The Texas left-hander held the Yankees to two singles and two walks in the complete-game shutout, throwing just 92 pitches. Ninety-two pitches! Holland had a five-pitch inning, a seven-pitch inning, and a nine-pitch inning, and only once did he throw more than 12 pitches in an inning — that was 16 in the fourth. New York had one runner reach second base — Jayson Nix stole second in the fourth — and 16 of their final 17 batters made outs. They were manhandled.
Obviously Holland has had a great year and he was fantastic on Thursday, but let's not kid ourselves here. The Yankees trotted out a lineup that featured Nix, Vernon Wells, Lyle Overbay, David Adams, Gonzalez, and Austin Romine. That is terrible and a big reason why the team has hit just .238/.311/.345 (78 wRC+) against southpaws this season. This was their seventh shutout loss of the year, one more than all of 2012 even though we've yet to reach the halfway point. You could have given the Yankees four outs per inning on Thursday and Holland still would have thrown a shutout.
Leftovers
The wrap-around 9-1-2-3 portion of the lineup accounted for all the offense, going 2-for-12 with two walks. The other five spots failed to reach base in 15 attempts. Wells, who has been demoted to platoon outfield duty in the last week or so thanks to Zoilo Almonte, went 0-for-3 with three strikeouts. He saw 15 pitches and swung and missed five times, each time at a slider down and in. Send help, please.
Preston Claiborne threw the ninth in relief of Hughes and put two men on base (single and hit batsman), the 10th and 11th base-runners he's allowed in his last 5.1 innings. Aside from Phil's strong start, the only positive to take from this game is that the bullpen is well-rested for this weekend's super-important series against the Orioles.
Remember when the Yankees won four of six last week? They've since lost three of four. They've also lost 18 of their last 30 games, getting outscored 128-94 in the process. They're sitting on a -5 run differential for the season, which is mediocrity defined.
Box Score, WPA Graph & Standings
MLB.com has the box score and video highlights, FanGraphs some other stats, and ESPN the updated standings. The Red Sox beat the Blue Jays and the Orioles had a sizable lead before getting stuck in a rain delay. Assuming they hold on to win, the Yankees will be tied with them for second place in the AL East in the loss column, three back of Boston. Tampa, who was off on Thursday, is two back of New York while Toronto is three back.

Source: FanGraphs
Up Next
The Yankees are heading to Baltimore for an important three-game weekend series. The Orioles have yet to officially announce their starter for Friday night's opener after designating former Yankee Freddy Garcia for assignment earlier this week, but it is expected to be right-hander Kevin Gausman. Either way, David Phelps will be on the bump for New York.