The @YankeesWeather people did a very poor job of monitoring the weather situation Sunday night. The rubber game between the Yankees and Red Sox started with a 45-minute non-rain delay — literally no rain fell — then continued with two outs recorded between a 37-minute rain delay and an infinite-minute rain delay in the sixth inning. Eventually the game was called after five and a half innings and Boston walked away with a 3-0 win.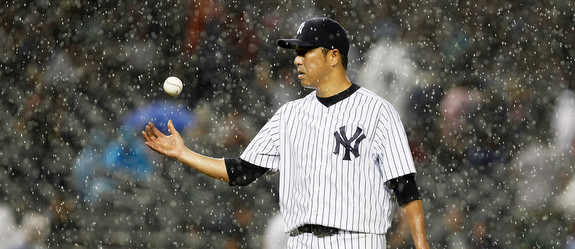 Off-Night
The Yankees couldn't afford to have Hiroki Kuroda have an off-night, but that's exactly what happened. The veteran right-hander cruised through the first three innings before surrendering one run in each of the fourth, fifth, and sixth innings. A Mike Napoli fielder's choice plated the first run before Jose Iglesias (!) and David Ortiz hit solo homers. Ortiz's dinger is understandable, but Iglesias? That's just the way it's been going for New York of late.
Kuroda allowed a season-high eight hits in 5.1 innings of work, striking out five and walking zero. In fact, it has been four starts and 81 batters since his last walk. That's rather impressive. He threw 62 of 95 pitches for strikes (65%). It wasn't Kuroda's best effort, but he's allowed a subpar start once in a while. He's been plenty good this year.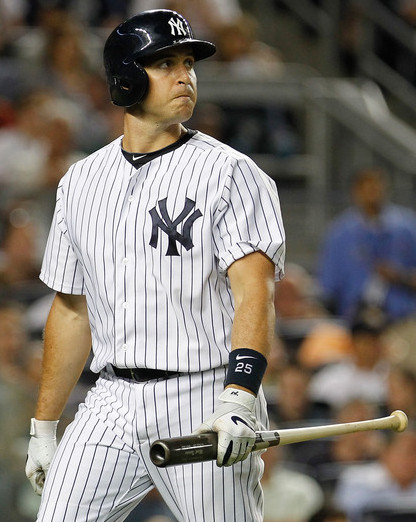 Saved By The Rain
If it wasn't for the rain, Clay Buchholz almost certainly would have cruised to a complete-game victory. The Yankees couldn't touch him. In five innings of work, the Boston right-hander allowed two balls out of the infield: Austin Romine's ten-hop ground ball single through the right side and a Travis Hafner foul ball. That's it. Everything else stayed on the infield as either a ground ball, a pop-up, a strikeout, or an infield single (Ichiro Suzuki).
The Yankees never had a runner advance beyond first base against Buchholz, and the last nine men he faced all made outs. He'd only thrown 71 pitches as well, so there was plenty in the tank for at least another three innings, if not four. This offense … it's bad. Twenty-sixth in baseball with an 87 wRC+ bad.
Leftovers
Boone Logan pitched between rain delays and struck out the only man he faced. Mike Napoli was thrown out trying to inexplicably steal for another out, so Logan's record will show 0.2 innings. Andrew Miller had warmed up for Boston between rain delays but never actually pitched.
Romine and Ichiro were the only Yankees with hits, though Robinson Cano also drew a walk. Vernon Wells went 0-for-2 to drop his season OBP to an awful .298. Those three weeks in April sure were fun while they lasted. Mark Teixeira is 1-for-9 with a walk and seven strikeouts since coming off the DL while Kevin Youkilis is 1-for-9 with a walk and five strikeouts.
For the first time since 1992, the Red Sox have held the Yankees to four of fewer runs in five consecutive games. I feel like I've reference the early-1990s a lot recently.
Box Score, WPA Graph & Standings
MLB.com has a box score and video highlights, FanGraphs some other stats, and ESPN the updated standings. The Rays and Orioles both won, so right now the Yankees are tied with those two clubs in the loss column for second place in the AL East. The Sawx are two games up.

Source: FanGraphs
Up Next
The Indians and two prominent former Yankees (Nick Swisher and Jason Giambi) are coming to the Bronx for a three-game series. Andy Pettitte is expected to be activated off the DL to start Monday night's series opener against Justin Masterson. If you want to catch the game live, check out RAB Tickets.