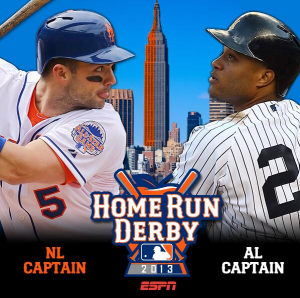 The Homerun Derby is one of those things that sounds better than it actually is. It's fun … for the first 15 minutes or so. It has a tendency to drag and drag, and after a while even homers get boring. I remember seeing Buster Olney suggest adding a points system — so many points for hitting it here, more for hitting it there, etc. — to spice things up and I liked the idea because at least it adds some strategy. I dunno.
As usual, there are eight participants in the Derby this year. I continue to hope Adam Dunn, who was put on this Earth to swing away in an event like this, will one day get to strut his stuff in the Homerun Derby. Here are the eight participants, though I have no idea who will hit when. The order remains a mystery:
American League
Robinson Cano — captain
Yoenis Cespedes
Chris Davis
Prince Fielder
National League
David Wright — captain
Pedro Alvarez
Michael Cuddyer
Bryce Harper
Lots of intrigue here. You've got the two hometown captains obviously, then you've got another local guy in the Washington Heights-raised Alvarez. Davis leads the world with 37 (!) homers, Fielder is a two-time Derby champ (2009 and 2012), Harper is the young phenom, and Cespedes is the international man of mystery. Cuddyer is … Cuddyer. Not exactly a typical Derby candidate, but apparently Wright chose him because the two are close friends. Fair enough, captains get to do that sort of thing.
My official pick — which is basically just a guess — to win is Harper. It's not just about raw power, it's also about endurance. He's by far the youngest and I'm assuming fatigue will be less of a factor for him. Who really knows though? That's the fun. The Derby starts at 8pm ET and can be seen on ESPN, as usual. Talk about that or anything else you want right here. Enjoy.