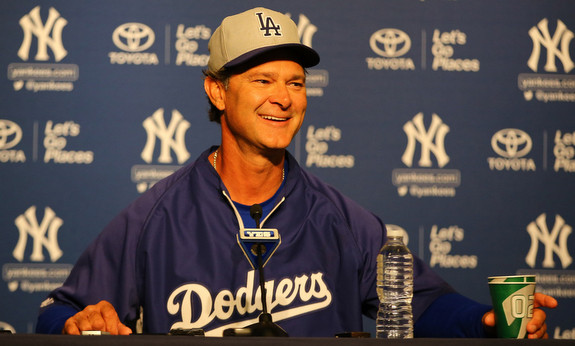 For the second time this season, baseball's two biggest payrolls will meet for a quick little two-game set. The Yankees and Dodgers split two games in the Bronx back in May, and now the series moves out west. It was much more fun when Don Mattingly returned to Yankee Stadium, that's for sure.
What Have They Done Lately?
If the Rays are the hottest team in baseball, the Dodgers are the hottest team in the NL. They've won nine of ten games since the All-Star break and 26 of their last 32 games overall. At 56-48 with a +9 run differential, Los Angeles has a nice 2.5-game lead in the NL West.
Offense
With an average of 4.0 runs per game and a team 104 wRC+, the Dodgers are a below-average run scoring team and an above-average offensive team. Does that make sense? They hit well but don't score as many runs as you'd expect. They have some timing issues, evidence by their 85 wRC+ with runners in scoring position. OF Matt Kemp (95 wRC+) is on the DL with an ankle issue and won't return this series.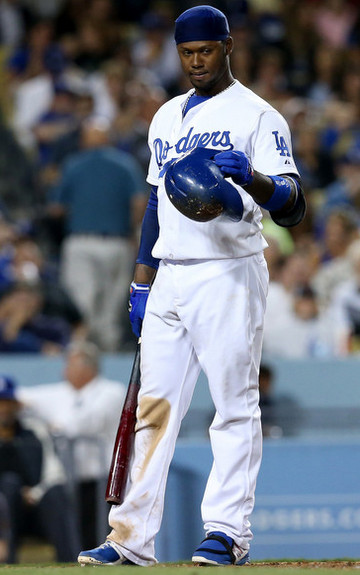 The top of manager Don Mattingly's lineup is where all the fun happens. OF Carl Crawford (117 wRC+) leads off, and he is expected to return to the lineup tonight after being under the weather for a few days. OF Yasiel Puig (185 wRC+) bats second, 1B Adrian Gonzalez (130 wRC+) bats third, and the molten hot SS Hanley Ramirez (210 wRC+) cleans up. He's been unbelievable after missing the start of the year with thumb and hamstring problems.
OF Andre Ethier (107 wRC+) and the underrated C A.J. Ellis (109 wRC+) provide some nice lineup help from the five and six spots. 3B Juan Uribe (104 wRC+) and 2B Mark Ellis (92 wRC+) round out the rest of the regulars. On the bench, Mattingly has C Tim Federowicz (61 wRC+), UTIL Jerry Hairston Jr. (87 wRC+), UTIL Elian Herrera (38 wRC+ in limited time), and OF Skip Schumaker (96 wRC+). They lack that big power bat for key pinch-hitting spots.
Starting Pitching Matchups
Tuesday: LHP Andy Pettitte vs. RHP Zack Greinke
Two games against the Dodgers, two former Cy Young Award winners on the mound. Such is life. Greinke, the 2009 AL Cy winner, has a 3.49 ERA (3.81 FIP) in 16 starts this year, including strong walk (2.85 BB/9 and 7.6 BB%) and homer (0.83 HR/9 and 10.2% HR/FB) rates. The 29-year-old's strikeout (6.89 K/9 and 18.4 K%) and ground ball (44.3%) numbers leave something to be desired though, especially for a guy who signed for close to $150M. Greinke is a true six-pitch pitcher, using three fastballs (low-90s two-seamer, low-90s four-seamer, upper-80s cutter) to set up his three offspeed pitches (mid-80s changeup, low-80s slider, mid-70s curveball). The curve and changeup see more time than the slider. Believe it or not, the Yankees have faced Greinke just once in the last five years. They punished him for seven runs in two innings back in 2011.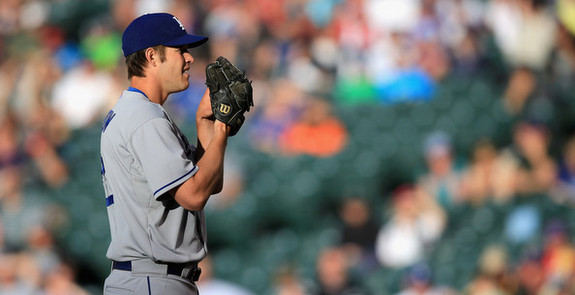 Wednesday: RHP Hiroki Kuroda vs. LHP Clayton Kershaw
For my money, Kershaw is the best pitcher in the world. The he 2011 NL Cy Young Award winner brings a 1.96 ERA (2.50 FIP) into this start, not to mention a gaudy strikeout rate (8.76 K/9 and 25.5 K%), a gaudier walk rate (1.96 BB/9 and 5.7 BB%), an excellent homer rate (0.51 HR/9 and 6.5% HR/FB), and a decent ground ball rate (45.2%). He's a stud. The 25-year-old (!) Kershaw is basically a three-pitch pitcher, using a low-to-mid-90s fastball, a wipeout mid-80s slider, and a hammer mid-70s curve. All three are legit swing-and-miss pitches. He'll also throw the rare mid-80s changeup. He's ridiculous. Kershaw has actually pitched against the Yankees once before, holding them to two runs in seven innings back in 2010. You might remember him breaking a bone in Brett Gardner's wrist with a pitch in that game. That was before Kershaw made the leap from promising youngster to dominant ace.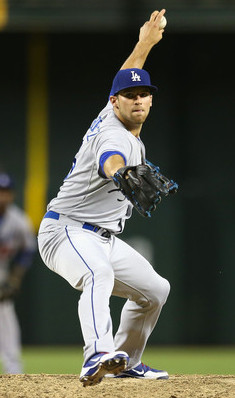 Bullpen Status
After a few rocky weeks in May and June, Mattingly's bullpen has fallen into place in recently. RHP Kenley Jansen (2.22 FIP) has replaced RHP Brandon League (4.80 FIP) as closer, and the team recently added RHP Carlos Marmol (9.42 FIP) as well. That's three Proven Closers™, but only one is actually above-average. The other two see mostly low and medium-leverage situations.
LHP Paco Rodriguez (1.07 FIP vs. LHB), a 2012 draft pick, is already a shutdown lefty specialist. LHP J.P. Howell (2.65 FIP) is another strong matchup guy, and the Yankees are familiar with him from his days with the Rays. RHP Ronald Belisario (3.55 FIP) is the guy who did this, and he rounds out the bullpen alongside RHP Chris Withrow (3.31 FIP in limited time). Outside of the lefties, there are some seriously hard throwers in this 'pen.
Both the Yankees and the Dodgers were off on Monday, so their bullpens are as rested as can be this time of year. Check out our Bullpen Workload page to see who pitched when, then check out Mike Scioscia's Tragic Illness and True Blue LA for the latest and greatest on the Dodgers. They're two of my very favorite team-specific sites on the web.