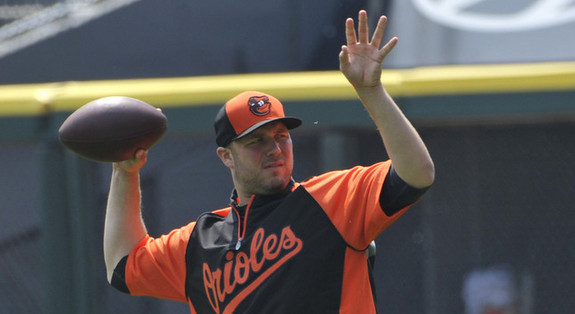 The Orioles again? Yes, the Orioles again. Baltimore swept the Yankees just last weekend, but that series was in Camden Yards. This weekend's three-game set will be played in the Bronx. Will that make a difference? I hope so.
What Have They Done Lately?
After sweeping the Yankees, the O's lost two of three to the White Sox in Chicago. Adam Dunn did them in with a walk-off homer solo homer yesterday. Baltimore is 48-38 with a +26 run differential on the year, good for second place in the AL East. They're one up on the Yankees in the loss column.
Offense
At 4.9 runs per game with a team 106 wRC+, manager Buck Showalter's squad is one of the best offenses in all of baseball. The Orioles are currently without the injured 1B/OF/DH Steve Pearce (90 wRC+) and UTIL Wilson Betemit (has not played in 2013), and neither guy is expected to return this weekend.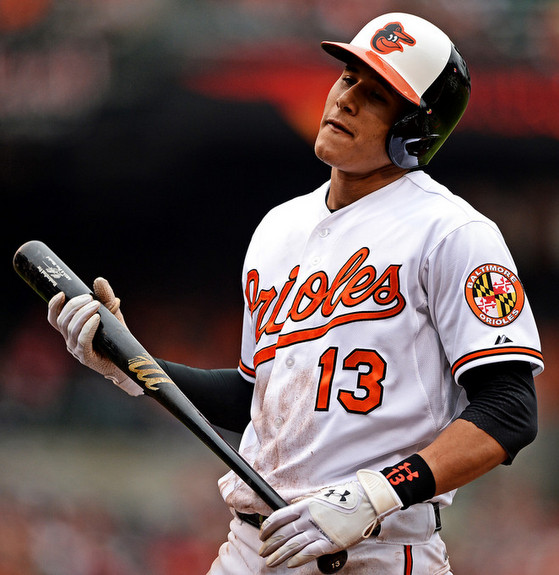 When you talk about the O's offense these days, the conversation has to start with 1B Chris Davis (196 wRC+) and 3B Manny Machado (125 wRC+). Davis leads all of baseball in homers (32) while Machado leads the game in doubles (38). These races aren't particularly close either — Miguel Cabrera has the second most homers (26) while Davis and Yadier Molina have the second most doubles (26). They're lapping the field.
Because two awesome hitters aren't enough, Baltimore also has OF Adam Jones (112 wRC+), OF Nate McLouth (115 wRC+), and OF Nick Markakis (103 wRC+). 2B Brian Roberts (111 wRC+) has hit well in very limited time, as has fourth OF Chris Dickerson (102 wRC+). C Matt Wieters (76 wRC+) and SS J.J. Hardy (95 wRC+) round out the regulars. Showalter's extras include backup C Taylor Teagarden (-16 wRC+ in limited time), IF Alexi Casilla (57 wRC+), IF Ryan Flaherty (67 wRC+), and OF Nolan Reimold (52 wRC+ in limited time). The Orioles lead baseball in homers (117) and rank 11th in steals (54). This offense can do it all.
Starting Pitching Matchups
Friday: RHP Ivan Nova vs. RHP Miguel Gonzalez
Gonzalez, 29, has a 3.77 ERA (4.42 FIP) in 14 starts this year, but he's also posted a 3.23 ERA (3.77 FIP) in eight starts since returning from a blister-related DL stint in late-May. That's in line with his breakout season a year ago (3.25 ERA and 4.38 FIP). Gonzalez limits walks (2.75 BB/9 and 7.5 BB%), but otherwise he doesn't strike out many (6.93 K/9 and 18.9 K%), does get many ground balls (41.1%), and will surrender the long ball (1.32 HR/9 and 12.1% HR/FB. Low-90s two- and four-seamers set up his dynamite low-80s splitter/changeup hybrid, the pitch that has given the Yankees fits since last year. Mid-80s sliders and upper-70s curveballs round out his repertoire. Gonzalez has faced the Yankees five times in his career (including playoffs) and has handled them very well all five times. That includes twice earlier this year. Baltimore was nice enough to push him back so he could pitch this game.
Saturday: LHP Andy Pettitte vs. RHP Chris Tillman
The 25-year-old Tillman has been a good results (3.68 ERA), bad peripherals (4.97 FIP) pitcher in his 17 starts this year. He strikes out an okay amount of batters (7.27 K/9 and 19.5 K%), but he walks a few too many (3.41 BB/9 and 9.1 BB%), doesn't get any grounders (37.2%), and is very homer prone (1.61 HR/9 and 15.4% HR/FB). Tillman is a five-pitch pitcher with a low-90s four-seamer, a low-90s cutter, a mid-80s changeup, a mid-80s slider, and a mid-70s curveball. He held the Yankees to two runs in six innings last weekend after getting hit by them pretty hard over the years. Different lineup now though.
Sunday: RHP Phil Hughes vs. RHP Jason Hammel
Hammel, 30, pitched like a borderline ace before a knee injury last year, but this season he's pitched much more like the guy who broke into the league with the Devil Rays way back when (5.19 ERA and 5.12 FIP). Both his strikeout (6.53 K/9 and 15.6 K%) and ground ball (41.8%) rates are way down, and, not coincidentally, his homer rate (1.61 HR/9 and 14.6% HR/FB) is way up. He still limits walks (2.95 BB/9 and 7.5 BB%), however. Hammel reinvested himself as a low-to-mid-90s two-seamer/mid-80s slider guy when he got to Baltimore, scaling back the usage of his low-to-mid-90s four-seamer, mid-80s changeup, and upper-70s curveball. Outside of one rough outing last May, Hammel has pitched well in seven starts against New York since last year, including two earlier this season.

Bullpen Status
Left-hander Zach Britton gave the Orioles seven innings yesterday, so the only reliever they used was RHP Tommy Hunter (4.01 FIP). He's pitched in each of the last two games. Closer RHP Jim Johnson (3.71 FIP) and setup men RHP Darren O'Day (3.71 FIP) and LHP Brian Matusz (3.52 FIP) are all well-rested. RHP Kevin Gausman (5.02 FIP in limited time), LHP T.J. McFarland (3.44 FIP), and LHP Troy Patton (4.35 FIP) round out the bullpen.
The Yankees are not in great shape bullpen-wise, thanks in part to the fiasco during yesterday's seventh and eighth inning. David Robertson has pitched in two straight and three of the last four while Mariano Rivera has also pitched in three of the last four despite having yesterday off. Our Bullpen Workload page has all the details. Camden Chat is the place to go for the latest and greatest on the O's.