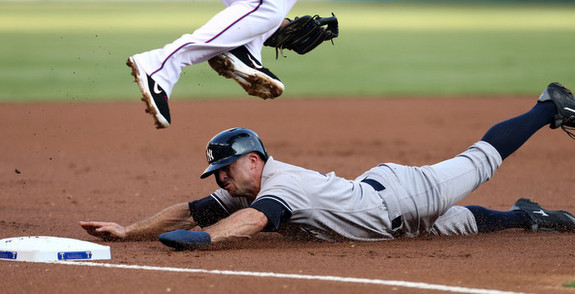 I'm at a loss for words after seeing this afternoon's lineup. Here, look:
RF Ichiro Suzuki
3B Brent Lillibridge
DH Robinson Cano
LF Vernon Wells
SS Eduardo Nunez
2B David Adams
1B Lyle Overbay
CF Melky Mesa
C Austin Romine
There is one above-average hitter in that lineup relative to position. Watch them go out and score like 13 runs now. Hiroki Kuroda is on the mound, so hopefully he allows no more than -1 runs just in case that 13-run outburst doesn't come.
It's hot and cloudy in Dallas this afternoon, and there is no rain in the forecast. That is expected to come tomorrow, when the Yankees will be back in New York. This afternoon's game will begin at 2:05pm ET and can be seen on YES locally and MLB Network nationally. Enjoy.
Injury Updates: Derek Jeter (quad) will run the bases today for the first time since getting hurt prior to the All-Star break. He is eligible to come off the DL on Saturday, but he isn't guaranteed to be ready at that time.