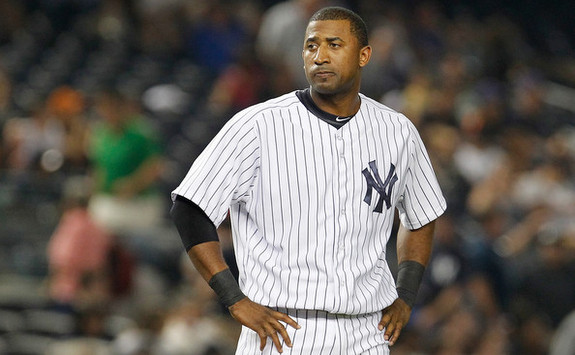 The Yankees dropped the first game of this four-game set against the Royals last night, meaning the best they can do is win three out of four. That would be great, but it won't be easy. Another loss tonight, which would be their third straight, means they'd be left with a split at best. I want more than that. Here's the lineup that will face former Rays right-hander Jamie Shields:
CF Brett Gardner
RF Ichiro Suzuki
2B Robinson Cano
DH Travis Hafner
LF Zoilo Almonte
1B Lyle Overbay
SS Eduardo Nunez
3B Luis Cruz
C Chris Stewart
And on the mound is left-hander CC Sabathia.
Tonight's weather is expected to be just like last night's weather, which means some rain might show up some time around the fourth or fifth inning. That might be a bit of a problem for the pitching staff. The game is scheduled to start a little after 7:05pm ET and can be seen on YES locally and MLB Network nationally. Enjoy.
Injury Update: Curtis Granderson (hand) still has not been cleared to start swinging a bat. The original diagnosis called for him to miss four weeks, but we're already in week seven of the DL stint.