The afternoon started with a celebration of Hideki Matsui's career and ended with Derek Jeter and Alfonso Soriano teaming up for a turn-back-the-clock walk-off win. It was like 2003 all over again. The Yankees salvaged the series with a 6-5 win on Sunday.
It's So Good To Be Back
Boy Jeter sure does have a flair for the dramatic, doesn't hit? In his (second) first game back from injury, the Cap'n sent the first pitch he saw from Matt Moore over the right-center field fence for a solo homer and a quick 1-0 first inning lead. It was one of those "is this real life?" moments, the kind that would be cheesy if you saw it in a movie. And yet, here we are. Again.
The first inning scoring did not stop there, thankfully. With the help of some shoddy defense, the Yankees tacked on two more runs on Vernon Wells' sacrifice fly and Ichiro Suzuki's two-out, two-strike single. Robinson Cano and Soriano scored after reaching on what amounted to two infield singles that deflected off defenders. Good to see the club capitalize on those opportunities. They've squandered enough of 'em this year.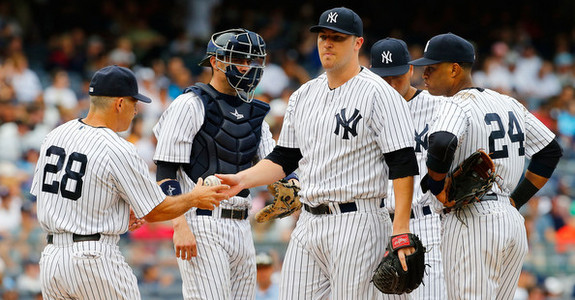 Blown Leads
In what may have been (and unlikely was, in my opinion) his final appearance in pinstripes with the trade deadline looming, Phil Hughes blew that first inning three-run lead and was booed off the field as he failed to complete five innings of work. The Rays answered back with a run in the second before Wil Myers clobbered a hanging slider to left for a three-run homer in the third. It was a moonshot. No doubt it was gone off the bat.
At one point from the second through fourth innings, eight of 13 batters reached base against Hughes, who allowed a second homer to Myers in the fourth to blow another lead. That was only a one-run lead, however. Tampa tagged the right-hander for five runs on nine hits, two walks, and one hit batsman in four innings and two batters of work. It was the second straight and seventh overall time Hughes failed complete five innings of work this season, tied for the most in the league with Scott Diamond. If it was indeed his final outing as a Yankee, Phil didn't exactly endear himself on the way out the door.
Unsung Hero
What a freaking job by the bullpen in this game. After Myers hit his second homer off Hughes to tie the game, four relievers combined to retire 15 of 16 batters faced. Preston Claiborne chipped in two perfect innings, Boone Logan one perfect inning, David Robertson one scoreless inning (allowed a single), and Mariano Rivera one perfect inning. The foursome allowed four balls out of the infield in five innings against one of the best offenses in the game. Just a stellar, stellar job.
Victory
Thanks to that bullpen work, the game was knotted at five into the ninth inning. Professional leadoff man Brett Gardner, who has shown a knack for brutally long at-bats of late, lead off the bottom of the ninth with an eight-pitch walk against the hard-throwing Jake McGee. He fouled off three of those eight pitches, and not a single one was clocked at lower than 96. Gardner had his team in business.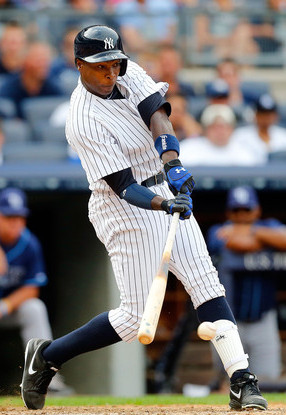 Jeter came to the plate fully intending to bunt Gardner to second, and I know that because he squared around to bunt the first pitch before it came inside and nearly hit him. It was so far inside that catcher Jose Lobaton missed it and the ball went to the backstop, allowing Brett to advance to second. The winning run was in scoring position without an out being sacrificed, and the Cap'n was in position to be the hero on a storybook day …
… except Rays manager Joe Maddon intentionally walked Jeter following the wild pitch. He went against the book and decided the left-on-left matchup against Robinson friggin' Cano was a safer bet than McGee against a great narrative. And you know what? He was right. Robbie struck out on three pitches, the third of which was a called strike three on a fastball right down the middle. The double play was in order and McGee was a ground ball away from escaping the jam.
McGee got that ground ball, but not where he wanted. Soriano jumped all over the first pitch fastball down in the zone and chopped a seeing-eye ground ball single back up the middle for the walk-off win. The Yankees brought him in because they desperately needed more production against lefties, and that's exactly what he gave them on Sunday. Soriano swatted a two-run Yankee Stadium cheapie homer off Moore in the third before picking up the walk-off single against McGee. Just like they drew it up.
LOL Strategy
Two minor grievances. First, the shift on Matt Joyce in the second. I'm actually fine with the initial decision to shift — yes, Hughes is a fly ball pitcher, but Joyce tends to pull his ground balls to the right side (spray chart) — but the problem is that he showed bunt on the first pitch of the at-bat, which he took for a called strike on the corner. Joyce pretty much told them he was going to bunt to beat the shift, but they went ahead with it anyway. Did no one pick up on that? He bunted for the hit on the second pitch.
Second, the hilariously bad sixth inning. Ichiro Suzuki led off with a single and never once attempted to steal. Instead, Brent Lillibridge tried to bunt him to second to get to … David Adams and Chris Stewart? I suppose they could have pinch-hit Eduardo Nunez and/or Melky Mesa against the left-hander Alex Torres, but doesn't Ichiro have to try to steal there? Or at least try a hit-and-run? Speed is his thing. To make matters worse, the exact same thing happened in the eighth inning, except Lillibridge managed to get bunt down. The end result was the same though. Very odd.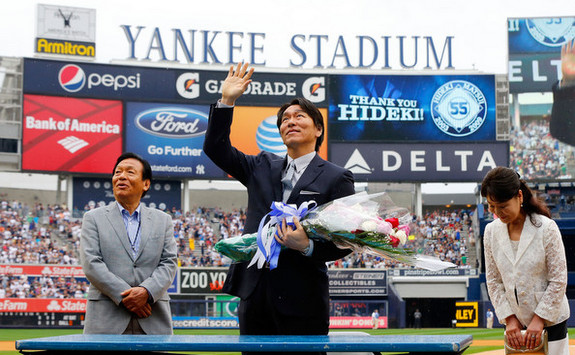 Leftovers
Jeter's homer wasn't just the team's first long ball of the second half — a span of nine (!) games, their longest homer-less streak since April 1984 — it was their first homer by a right-handed batter since Jayson Nix took Yu Darvish deep on June 25th. That's a span of 477 plate appearances. Incredible.
Ichiro had himself a helluva day, going 4-for-4 and seeing 25 total pitches. Soriano went 4-for-5 with the two-run homer and walk-off hit while scoring two runs. After two straight hitless games to start his second tour of duty in the Bronx, Soriano showed everyone he can still deliver at the plate.
The bottom three spots in the line did nothing (combined 0-for-11 with the sac bunt), so those top six spots did all the damage. They were 12-for-24 (.500) with three walks and a sac fly (.536 OBP). All of a sudden, with Jeter back in his customary two-hole, the Yankees have a competent Major League lineup for the first time pretty much all season.
At 39 years and 32 days, Jeter became the oldest shortstop in Yankees history in this game. Phil Rizzuto was the previous oldest at 38 years and 325 days. Jeter looked fine at short but wasn't really tested with any tough plays.
And finally, congrats to Matsui. It was a great ceremony for a truly great career. There aren't enough players like him.
Box Score, WPA Graph & Standings
MLB.com has the box score and video highlights, FanGraphs some other stats, and ESPN the updated standings. The Yankees are seven back of the Rays and Red Sox — they're tied atop the AL East — in the loss column and two back of the second wildcard spot. There are four teams within three games of that spot. Gonna be a fun stretch drive.

Source: FanGraphs
Up Next
The Yankees are going going back back to Cali Cali. They're off on Monday and will open a quick little two-game set with the Dodgers at Dodger Stadium on Tuesday night, when Andy Pettitte gets the ball against the Zack Greinke.