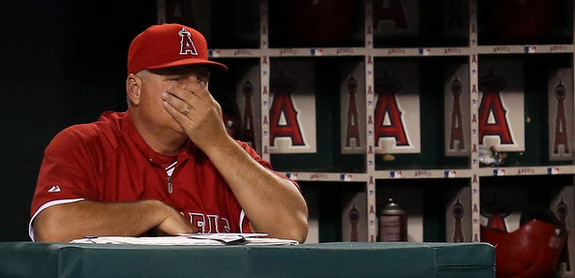 What was once a great battle between two of baseball's best teams has devolved into a meeting of broken down fringe contenders. Yankees-Angels doesn't have the same kind of excitement it once did … or should I say dread? The Angels had New York's number for the better part of a decade. The two teams will play four games in Yankee Stadium this week, their second and final meeting of the season after the Yankees lost two of three in Anaheim back in June.
What Have They Done Lately?
Despite taking two of three from the Indians this weekend, the Halos have lost five of their last seven games and 14 of their last 21 games. At 53-63 with a -17 run differential, the Angels are in fourth place in the AL West and well out of a playoff spot.
Offense
This isn't a surprise, but Mike Scioscia's team can score a lot of runs. They average 4.6 runs per game with a team 109 wRC+, both well-above-average marks even though 1B Albert Pujols (111 wRC+) is done for the year with a foot problem. The Angels are also without certified Yankees killer 2B Howie Kendrick (116 wRC+), who just landed on the DL with a knee injury, and OF Peter Bourjos (142 wRC+), who has been out for a while with a broken wrist. That's three pretty important players right there.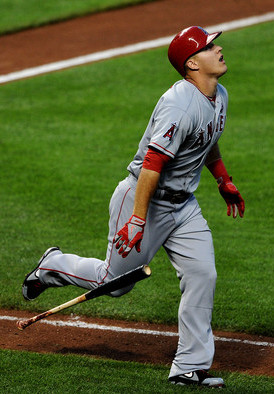 The team's offense now revolves around Mike Trout (176 wRC+), baseball's best all-around player. 1B Mark Trumbo (108 wRC+) and C Chris Iannetta (106 wRC+) are Scioscia's only other healthy above-average regulars at the moment. OF Josh Hamilton (88 wRC+) has been a major disappointment and others like SS Erick Aybar (96 wRC+) and OF J.B. Shuck (97 wRC+) aren't anything special. Personal fave OF Kole Calhoun (168 wRC+) has torn the cover off the ball in a whopping 51 plate appearances.
IF Grant Green (63 wRC+) came over from the Athletics at the trade deadline and has actually played well for the Halos (194 wRC+ in very limited time). He was awful during his brief time with Oakland, hence the poor overall numbers. OF Colin Cowgill (68 wRC+), IF Tommy Field (-31 wRC+ in very limited time), backup C Hank Conger (98 wRC+), and former Yankee IF Chris Nelson (57 wRC+) round out the rest of the position player crop. Because of their pitching issues, the Angels currently have a 13-man pitching staff and a three-man bench.
Starting Pitching Matchups
Monday: RHP Hiroki Kuroda vs. LHP Garrett Richards
Richards, 25, moved into the rotation not too long ago because Joe Blanton was just terrible (5.52 ERA and 4.83 FIP). He's got a 4.20 ERA (3.41 FIP) in seven starts and 30 relief appearances this year, though he's more about limiting walks (2.52 BB/9 and 6.7 BB%) and getting grounders (57.5%) than missing bats (6.41 K/9 and 16.9 K%). Richards has done a good job of keeping the ball in the park (0.63 HR/9 and 9.7% HR/FB) by using three mid-90s fastballs (four-seamer, two-seamer, cutter) to set up his mid-80s slider. He'll also throw some rare upper-70s curveballs and upper-80s changeups. The Yankees have seen Richards just twice before, one start (six runs in five innings in 2011) and one relief appearance (scoreless inning in 2012).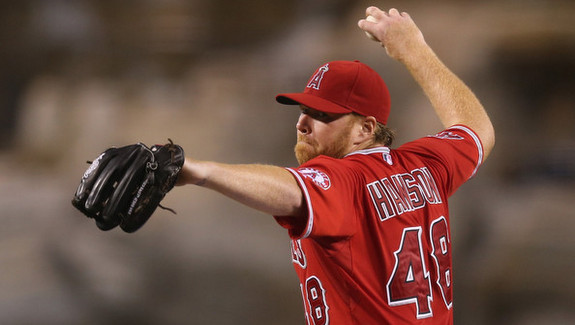 Tuesday: LHP CC Sabathia vs. TBA
This spot is technically listed as TBA, but is it expected to be right-hander Tommy Hanson. This been a really, really rough year for the 26-year-old, who has pitched terribly (5.59 ERA and 4.80 FIP), missed more than a month with a forearm strain, and missed about a month following the death of his stepbrother. Yeah, rough. None of Hanson's peripherals stand out in a good way — 6.92 K/9 (17.1 K%), 3.72 BB/9 (9.2 BB%), 1.33 HR/9 (10.3% HR/FB), and 32.9% grounders — though his fastball has jumped back into the low-90s in recent starts. He also has three offspeed pitches in a low-80s changeup, upper-70s slider, and low-70s curveball. It's worth noting lefties have crushed Hanson this year (.380 wOBA), though righties have hit him well too (.340 wOBA). The Yankees have seen him three times with mixed results over the years, including a two-run, 6.1-inning start earlier this season.
Wednesday: RHP Ivan Nova vs. RHP Jered Weaver
A fractured left elbow sidelined Weaver for roughly six weeks earlier this season, but when healthy he's been pretty great (2.87 ERA and 3.56 FIP). The 30-year-old has consistently outpitched his peripherals — 7.14 K/9 (19.4 K%), 2.09 BB/9 (5.8 BB%), 0.87 HR/9 (7.7% HR/FB), and 33.6% grounders — over the years in part because he generates a ton of infield and generally weak pop-ups. Weaver is a legitimate six-pitch pitcher, though he has been using mid-80s cutter less than ever before this season. His mid-to-upper-80s two and four-seam fastballs set up a low-80s slider, upper-80s changeup, and low-80s curveball. Weaver has faced the Yankees plenty of times over the years, and he's typically had his trouble with them (5.19 ERA in 69.1 innings).
Thursday: RHP Phil Hughes vs. LHP C.J. Wilson
Wilson, 32, had a subpar first season in Anaheim, but he's been pretty damn good in his follow-up campaign (3.49 ERA and 3.28 FIP). He's striking guys out (8.45 K/9 and 21.6 K%), limiting homers (0.59 HR/9 and 7.0% HR/FB), and getting grounders (46.0%). Wilson will hand out some free passes (3.49 BB/9 and 8.9 BB%), however. Three fastballs (low-90s two and four-seamers, upper-80s cutters) and three offspeed pitches (mid-80s changeup, low-80s sliders, and upper-70s curveballs) fill out his six-pitch arsenal. It's worth noting Wilson has had some trouble against righties this year (.314 wOBA), but he's done the job against lefties (.252 wOBA). The Yankees have faced the former Rangers southpaw a whole bunch of times these last few seasons. No secrets here.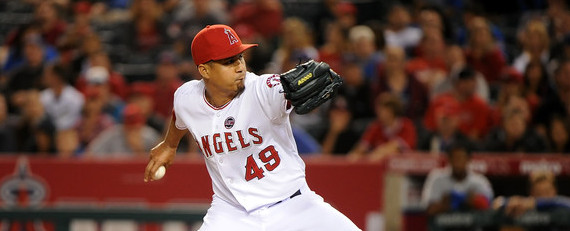 Bullpen Status
With a 4.37 ERA (4.10 FIP), the Angels have one of the worst bullpens in baseball. Their big free agent signings (RHP Ryan Madson and LHP Sean Burnett) haven't worked due to injury, and closer RHP Ernesto Frieri (4.11 FIP) has been meltdown-prone. RHP Kevin Jepsen (2.92 FIP) and former Yankees farmhand RHP Dane De La Rosa (3.03 FIP) has been very good in setup roles, but the rest of the bullpen is a skeleton crew: RHP J.C. Gutierrez (4.03 FIP), LHP Nick Maronde (7.55 FIP in very limited time), LHP Buddy Boshers (0.05 FIP in super limited time), RHP Michael Kohn (4.64 FIP), and Blanton.
The Yankees, meanwhile, have a heavily used and worn out bullpen at the moment. Their four best relievers all threw 19+ pitches yesterday and, outside of Adam Warren, their B-squad threw 30+ pitches on Saturday. Dellin Betances was called up yesterday to give the team a fresh arm, but it's clear Joe Girardi doesn't trust him in important spots yet — Joba Chamberlain was warming up for the potential tenth inning yesterday after throwing 30 pitches the day before. Check out our Bullpen Workload page for recent reliever usage, then check out True Grich for the best Angels blogginess around.