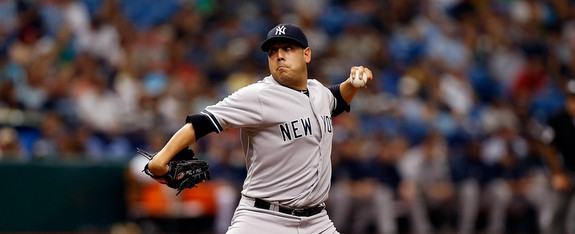 Got a bunch of injury updates courtesy of George King, Zach Braziller, Howie Rumberg, and Vince Mercogliano:
Derek Jeter (calf) played catch over the weekend and will hit off a tee and soft toss today. The Cap'n is still a few days away from running, however. Joe Girardi said he expects Jeter to go down to Tampa to continue his rehab when the Yankees start their quick little three-game road trip on Friday.
Kevin Youkilis (back) has "been rehabbing away, nothing fun, no baseball things yet." He is roughly eight weeks out from surgery and was originally expected to start taking dry swings after 8-10 weeks. Youkilis remains unlikely to return this year.
Travis Hafner (shoulder) is not yet ready to start baseball activities, according to Girardi. "He feels better," said the skipper while also making it sound like the team's rehab DH is unlikely to return this season.
Vidal Nuno (groin) started a throwing program according to his Twitter feed. Brian Cashman recently said they don't expect him back this year, but I wonder if he'll progress enough to come back as a short reliever when rosters expand in September.
Ty Hensley (hip) also started a throwing program according to his Twitter feed. He's coming off hip surgery and is expected to miss the entire season. Obviously the Yankees will be very conservative with last year's first round pick. Hensley is unlikely to see a real game until next season.