Mariano Rivera has accomplished an awful lot in his Hall of Fame career, but one thing he had never done prior to these last few days was blow three consecutive save opportunities. I guess that's not really much of an accomplishment. Anyway, Rivera blew a one-run lead against the White Sox on Wednesday before squandering two-run leads against the Tigers on Friday and Sunday. The Yankees managed to come back to win the two games against Detroit.
"There's always going to be a first time. I don't pay attention to that stuff," said Rivera to Chad Jennings when asked about the three straight blown saves. "It's not surprising. You're talking about professional hitters. At the same time, I'm not putting the ball where I want it."
PitchFX confirms Rivera has not had a dip in velocity recently nor has his trademark cutter lost any bite — the pitch is still sitting in the low-90s with roughly 2-4 inches of horizontal break. Nothing out of the ordinary there. As Rivera indicated, it's all about location. Here is the game-tying hit he surrendered to Adam Dunn on Wednesday: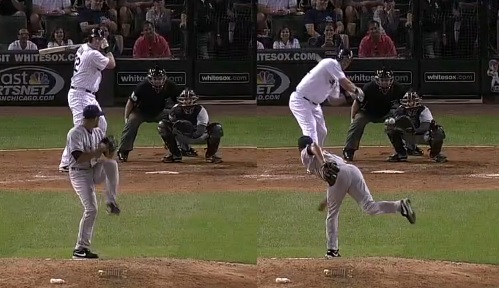 Notice where Austin Romine wanted the pitch — down and on the outside corner — compared to where it actually ended up. Thigh high and right down the middle, pretty much. That was an 0-2 pitch, and you probably remember the first two strikes were called on borderline outside cutters. Maybe even pitches that were off the plate. Romine and Rivera went back to that well a third time but Mo didn't execute.
Dunn slapping a ball the other way for a single is a rarity. That just isn't his game. Miguel Cabrera hitting homeruns is not; it's just what he does. Over the weekend, the reigning AL MVP took Rivera deep not once, but twice in the blown saves. Here's his two-run shot from Friday, which tied the game:
That was a pretty epic at-bat, as you probably remember. Cabrera fouled two balls off his leg and was hobbling around badly between pitches — at one point he was using his bat like a cane — yet he managed to remain in the game. The game-tying homer came in a 2-2 count after Rivera busted him inside repeatedly, hence the two foul balls of the leg. Chris Stewart set up inside one more time but Rivera again missed his spot, this time knee-high and out over the plate. That's a pitch great hitters like Miggy will crush, and in this instance it left the park.
The homerun Cabrera hit on Sunday did not tie the game, but it did turn a two-run lead into the one-run lead for the Yankees. Again, Rivera missed his spot in a bad way: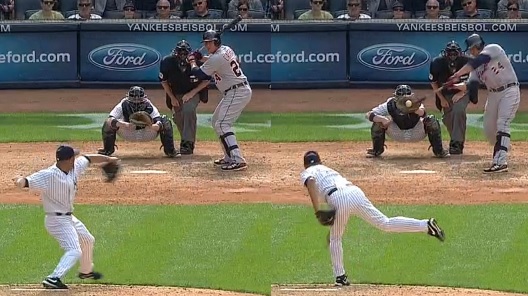 Stewart and Rivera mixed things up in this at-bat after getting beat on Friday, pitching to both sides of the plate rather than pounding Cabrera inside. The 2-2 pitch was supposed to be down and away — you can even argue Stewart was set up too far over the plate — and Mo simply missed up. The pitch was on the outer half as intended, but rather than come in at the knees it came in at the belt. Cabrera took advantage of the short porch and drove it out the other way.
The third homer of the weekend, the one that actually tied Sunday's game and clinched that third blown save, was more good hitting than bad pitching. Unlike the last three pitches in this post, Rivera didn't miss his spot by all that much: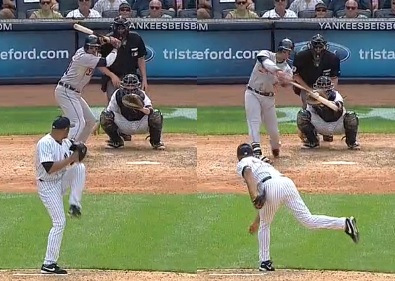 Stewart wanted the 0-1 pitch up towards the top of the zone and inside, and Rivera wound up coming up-and-in even more than desired. That's not a bad thing, up-and-in pitches are a great way to induce weak contact. Mo has been breaking left-handed hitter's bats with that pitch for nearly two decades now. Martinez just pulled his hands in and yanked the ball to right for the game-tying solo homer. Rivera missed his spot but not necessarily in a bad way. This pitch didn't leak back out into the hitting zone like the others. Martinez is just a really smart hitter.
Missing location is not something we see Mo do all that often. We're not just talking about a pitcher with great command here. We're talking about a pitcher with historically great command. That Rivera is blowing these saves because he's missing his spots rather than losing velocity or movement off his cutter is actually somewhat encouraging because you would expect him to work out the location problems. It's hard to imagine Mo will struggle with his command for an extended period of time. It's possible, sure, but tough to expect. If his stuff was disappearing, it would be a much bigger problem.
The weird thing about Rivera's recent struggles is that they really don't matter all that much. The Yankees' odds of making the postseason are microscopic — 2.3% according to Baseball Prospectus, and they're seven games back with four teams ahead of them — so a blown save here or there isn't the end of the world regarding the club's 2013 outlook. Rivera is also retiring after this year, so the long-term concern is nil. Still, no one wants to see him finish his career on a down note, so hopefully Mo will right the ship and soon. Since it's just a command problem, I'm extremely confident he'll get things sorted out very quickly.