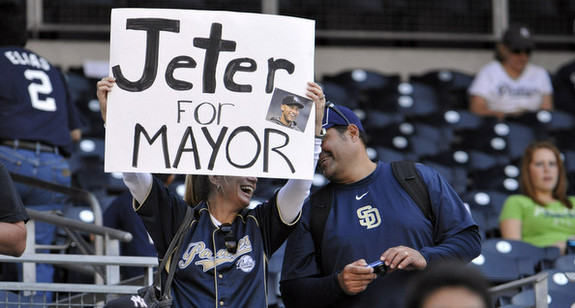 Considering how poorly he pitched last season, particularly down the stretch in the second half, it's hard to believe we've (again) reached the point where Ivan Nova is the Yankees' second best starter. The trio of CC Sabathia, Andy Pettitte, and Phil Hughes have been decent at best and awful at worst, and the last few weeks have leaned towards the low-end of that scale. Nova is suddenly the guy that makes you say "we're going to have a good chance to win today." Baseball is weird sometimes. Here's the lineup that will face funky right-hander Tyson Ross:
CF Brett Gardner
2B Robinson Cano
LF Alfonso Soriano
RF Curtis Granderson
1B Lyle Overbay
SS Eduardo Nunez
3B Brent Lillibridge
C Chris Stewart
SP Ivan Nova
More perfect weather in San Diego … I assume. There's really no point in checked the weather report down there. It's the same everyday. First pitch is scheduled for 8:40pm ET and can be seen on YES. Enjoy.
Injury Updates: In case you missed it earlier, Derek Jeter won't play this weekend due to lingering quad and calf soreness … David Phelps has been scratched from tomorrow's rehab start with a sore elbow.