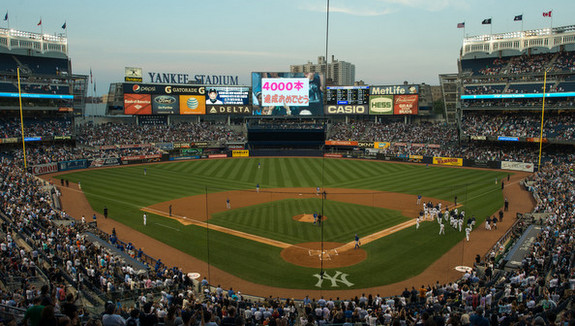 The Yankees have done exactly what they needed to do these last two weeks as they try to climb back in the postseason race. They took two of three from two good teams in the Tigers and Red Sox while beating the crap out of a pair of non-contenders in the Angels and Blue Jays. They've shaved four games off their wildcard deficit and three games off their division deficit with their recent strong play, but they're only halfway there. Lots more winning has to be done. Finishing off the sweep of Toronto this afternoon is the next step. Here's the lineup that will face left-hander J.A. Happ:
RF Ichiro Suzuki
DH Vernon Wells
2B Robinson Cano
LF Alfonso Soriano
3B Alex Rodriguez
CF Curtis Granderson
1B Mark Reynolds
SS Eduardo Nunez
C Chris Stewart
And on the mound is lefty Andy Pettitte, who is coming off a pretty good start against the Red Sox. He ran out of gas in the seventh inning but looked better than he had in a long time for the first 6+ innings. The Yankees need a repeat showing of that Pettitte today; he's got to pitch better if they're going to make a serious run at a playoff spot.
It has been pouring in New York all morning. Real heavy, nasty rain with lightning and loud thunder. Not exactly baseball weather. That is supposed to clear up early this afternoon however, so we're probably going to have a game today. The Blue Jays do not come back to the Bronx at all this season, so expect them to wait it out as long as necessary. No one wants to forfeit an off-day to make a game up this late in the season. First pitch is scheduled for 1:05pm ET but I'm not sure that will happen. They might start in a delay. Whenever they do play, it'll be on YES. Enjoy.
Update (12:58pm): The game will not start on time, the Yankees announced. No word on a tentative start time or anything. It's still raining outside. Not hard, but raining enough.
Update (1:32pm): Dan Barbarisi hears it might be a while until the game begins, something like 3-5pm ET. Yikes.
Update (3:44pm): The tarp is coming off the field and the team says they are shooting for a 4:30pm ET start time.
Update (4:32pm): We have baseball. The two teams have taken the field.