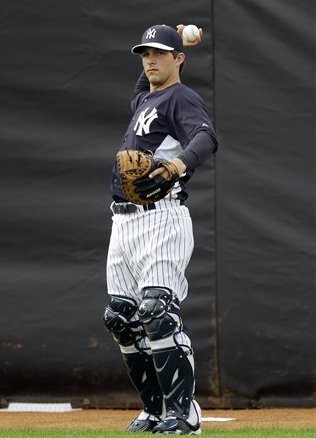 It's hard to believe we're at the point of discussing expanded rosters, but here we are. In 13 days teams will be allowed to carry as many 40 players on their active roster as part of September call-ups, another one of baseball's little quirks. A lot of people don't like them because it changes the rules at the most important time of the year, but I say reward the contenders with depth and let non-contenders evaluate young players. If my third catcher and extra starter are better than yours, why shouldn't I be allowed to take advantage?
Anyway, Triple-A Scranton currently sits in fourth place in the five-team International League North Division, and they're about a week away from being eliminated from postseason contention. Their regular season ends on September 2nd, meaning the Yankees will be able to recall pretty much everyone the very next day. Most years teams will call up just the bare minimum — third catcher, extra reliever or two — and leave enough players in the minors as a courtesy to their various affiliates during the minor league postseason. The Yankees won't have to worry about that this year, they can summon everyone almost immediately.
So, with two weeks to go before rosters expand, let's take a look at who the Bombers may bring up to bolster the roster as they try to fight their way into playoff position down the stretch. Here's the 40-man roster for reference.
Third Catcher
This is, by far, the most interesting call-up situation on the position player side of things. The Yankees only have two catchers on their 40-man roster at the moment (not counting the suspended Frankie Cervelli), meaning they will have to add a catcher to the 40-man for the season's final month. A third catcher is a September staple. Every team adds one.
Bobby Wilson is the veteran in Triple-A and he's having an okay year (92 wRC+), but he doesn't have a long-term future in the organization. The alternative is J.R. Murphy, who's had a very good year split evenly between Double-A Trenton (116 wRC+) and the RailRiders (111 wRC+). The 22-year-old is one of the team's better prospects and the Yankees will have to add him to the 40-man roster after the season to protect him from the Rule 5 Draft anyway. They could speed up the process and call him up as the third catcher in September. New York did exactly that with Austin Romine two years years ago, so don't be surprised if they do it again with Murphy.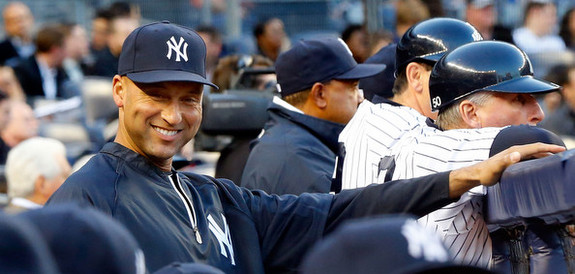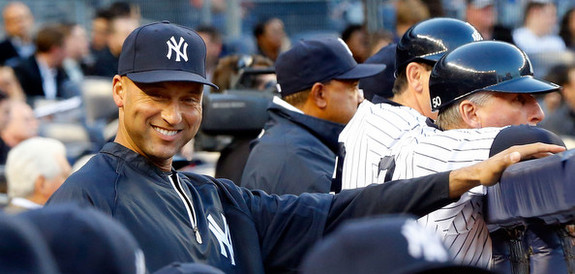 Extra Infielder(s)
I guess it's possible one of the extra infielders the Yankees add to the roster next month is Derek Jeter. The Cap'n and his strained calf have been taking batting practice and fielding ground balls down in Tampa, but he has yet to run the bases. Not at half-speed, not at 75%, nothing. Needless to say, he isn't close to returning to the team even though he was eligible to come off the DL yesterday. Given how Jeter quickly re-injured himself the first two times he came off the DL, don't be surprised if the Yankees play it safe and drag out his rehab. I suppose that could change depending on the severity of Eduardo Nunez's hamstring injury.
Otherwise, David Adams is the only other infielder who is a) healthy, b) on the 40-man roster, and c) not in the big leagues. He'll rejoin the team next month. Corban Joseph is done for the year with a shoulder problem and Luis Cruz was recently designated for assignment to clear a roster spot for Mark Reynolds. Alberto Gonzalez, who had two brief stints with the Yankees earlier this year, is playing in Triple-A but has since been removed from the 40-man. If the team is willing to clear a spot, he could return in September. That may depend on the health of Jeter and Nunez more than anything.
Extra Outfielder(s)
Melky Mesa, who has torn the cover off the ball this month, is the only obvious call-up candidate here. The Yankees already have five outfielders on the 25-man roster, so adding another is not a huge priority, but Mesa will give Joe Girardi a legitimate pinch-runner and defensive replacement option in the late innings. Melky2.0 is a flawed player, especially at the plate, yet he can be useful because of his speed and defense. Those are two useful skills to have lying around when rosters expand. If Zoilo Almonte's ankle ever heals up, he'll join the team in September as well. Double-A Trenton's Ramon Flores is also on the 40-man but I don't think we'll see him next month.

Extra Arms
There are three categories of pitchers currently on the 40-man but not in the big leagues: the no-doubters, the injured guys, and the maybes. The no-doubters are the guys who will unquestionably be called up, namely Preston Claiborne and Dellin Betances. The injured guys are the ones who would be called up if healthy, like Vidal Nuno (groin) and Michael Pineda (shoulder). Nuno recently started a throwing program and I suppose has a chance to return as a reliever next month. Pineda has yet to start throwing as far as I know, plus the team may decide to keep him down for the sake of manipulating his service time.
The maybes are the guys might get called up but are not locks, as you probably guessed. Brett Marshall is the most notable pitcher in this category. He's had a poor year overall in Triple-A (5.26 ERA and 4.91 FIP) but has pitched better of late, plus he was up with the Yankees earlier this season. Surely you remember his 108-pitch long relief outing. Even though they have both Adam Warren and David Huff available as long men, I'm guessing the team calls Marshall up next month as an extra long reliever, allowing Huff to be used as more of a lefty specialist.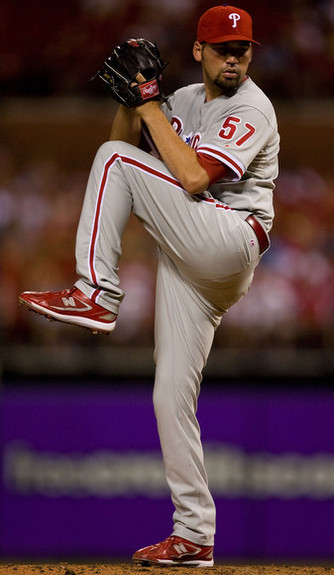 Two other maybes are far less likely to be called up. Right-hander Jose Ramirez has been on the Triple-A DL since late last month and I haven't seen any kind of recent update about him, so I'm guessing he's a non-option in September. Had he been healthy, it would have been interesting to see if he got a chance to work out of the bullpen down the stretch. That's likely his ultimate destination given his career-long problems with staying healthy as a starter. Lefty Nil Turley (4.31 ERA and 4.08 FIP) has been just okay with Double-A Trenton and is unlikely to be recalled.
The final few maybes are the non-40-man guys who might get added to the roster for the season's final month. David Herndon, who has thrown well (2.83 ERA and 2.08 FIP) in limited since returning from Tommy John surgery, figures to be added to the 40-man after the season since he could be a useful middle reliever next year. The Yankees pulled the Jon Lieber/David Aardsma trick with him, grabbing a rehabbing player with an eye towards next year. Herndon has a 3.85 ERA and 4.27 FIP in 117 career big league innings, all with the Phillies.
Upper level right-handers Shane Greene, Tommy Kahnle, Danny Burawa, and Chase Whitley have all had good to great years and will be Rule 5 Draft eligible this winter. Lefty Cesar Cabral has been very good since shaking off the roster following his fractured elbow. I don't think any of those guys will be called up in September and I'm not even sure any will be added to the 40-man after the season either. Kahnle's name surfaced in several trade rumors prior to the deadline, which might be an indication the team would prefer to unload him rather than add him to the roster. Whitley is pretty much big league ready and Cabral has the southpaw thing going for him, so they're probably the best bets to be added. Still don't think that happens in September.
* * *
So, after all that, it seems like the Yankees are poised to call up Murphy, Adams, Mesa, Claiborne, Betances, and Marshall once rosters expand in September. Jeter will be activated at one point or another, obviously. Gonzalez is on the fence depending on the health of other infielders. Almonte, Nuno, Pineda, and maybe Ramirez are wildcards depending on health. Gonzalez and Murphy would require 40-man moves, which I suppose could involve calling up injured players (Manny Banuelos? Joseph? Almonte?) and placing them on the 60-day DL. Regardless, if the Yankees are playing important games in September, the call-ups are unlikely to see much playing time anyway. The regulars will continue to run out there until something is clinched, whether it be a postseason berth or a fourth place finish.