"I would say we are in a desperate time. Ownership wants to go for it. I didn't want to give up a young arm [Corey Black]. But I understand the desperate need we have for offense. And Soriano will help us. The bottom line is this guy makes us better. Did ownership want him? Absolutely, yes. Does he make us better? Absolutely, yes. This is what Hal wants, and this is why we are doing it."
That's what Brian Cashman told Joel Sherman just days after the Yankees acquired Alfonso Soriano last month. A lot of people have taken that to mean Cashman didn't want Soriano, but he didn't really say that. Maybe he meant it, but he didn't say it. He simply said he didn't want to give up a good but not great Single-A pitching prospect for a good but not great corner outfielder. Considering the Cubs had little leverage after Soriano said he would only waive his no-trade clause to come back to the Yankees, you can argue Black was an overpay. I think it was a fair trade, but that's just me. Maybe Cashman thought they could get him while giving up something less. That's not unreasonable.
Now that Soriano is pretty much carrying the team offensively — or at least producing the loudest with all the homers — Cashman's taking a ton of heat for not wanting him even though that's not what he said. It kinda sounds like he said that though and now he looks silly. Such is life. Does that have any actual impact on the team's performance? Maybe, but I find that hard to believe. Maybe Cashman's ego is bruised, but who really cares about that. He's been the GM of the New York Yankees for a long ass time; I'm pretty sure he's learned to tune out the public perception of him and the job he's doing. You kinda have to to survive that long.
The question I and I think a lot of people have is why? Why did Cashman go public with his disagreement with the trade? Was he simply responding to a question or was it unprovoked? Was he suggesting the Yankees stink and should focus on rebuilding rather than adding another ancient player signed through 2014? Is he just sick of being over-ruled? No one knows other than Cashman and that sucks because it leads to all sorts of speculation. We're all guilty of it and none of it is productive. Sure is fun though.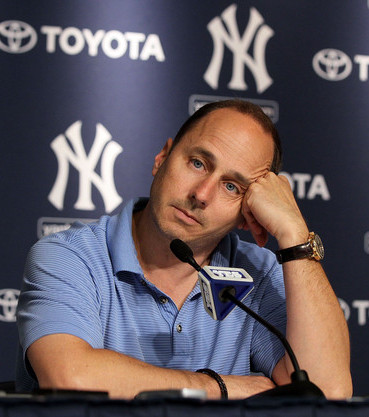 There is one thing I do know: Brian Cashman isn't stupid. If you've listened to him talk at any point in the last like, 15 years, then you know he's mastered the art of saying both a lot of words and nothing at all. He gives these long-winded answers and there's nothing to them. Lots of words and no information. It's amazing. Joe Girardi has gotten good at it as well. When Cashman does say something with actual substance, it's because he wants to. There's a reason he came out and said he didn't agree with the Soriano deal trading Corey Black. There's a message for someone in there.
An important thing — maybe the most important thing — to remember is that there are reputations involved here. What if Cashman was in trade talks with other clubs and told them Black was untouchable? It sure would look bad if he turned around and dealt him to the Cubs, wouldn't it? That would make it tough to trust the guy in future trade conversations in my opinion. I remember a few years ago, while speaking at a WFAN charity event, Cashman said part of the reason he was so outspoken following the Rafael Soriano signing was because he had told other agents he was unwilling to go three years on a relief pitcher. He had to let those guys know hey, it wasn't me. My bosses did it.
Cashman said he didn't want to trade Black for Soriano for some reason. Some reason we don't know. I don't think he was out there thumping his chest trying to reassert his dominance over the baseball operations. He and the Steinbrenners reportedly have a great relationship and that's the most important thing. That he's not a simple "yes man" and is voicing his displeasure is a good thing (to some extent) even if comes off as unprofessional. A bunch of guys sitting around a table agreeing with each other is no way to build a baseball team. There has to be different voices. Cashman has been more outspoken these last few years — I find it really refreshing because he's snarky and often brutally honest — and I think all of it is calculated. He's not doing this for fun. There's a method to Cashman's madness.