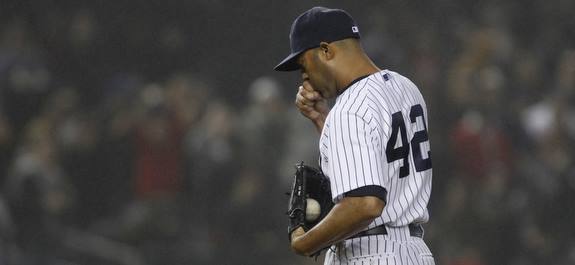 I guess the only way to start this post is by saying there is no chance in hell the Yankees will trade Mariano Rivera. Absolutely zero. I'm more confident in that than anything I've ever written on this site. They've got a big retirement ceremony planned for September, they're giving away a bobblehead … there's no chance they're going to let Rivera wear anything other than Yankees pinstripes in his career. So consider this post an intellectual exercise, or something.
* * *
As of this morning, the Yankees have a 1.5% chance to make the postseason according to Baseball Prospectus. They are six games back of the second wildcard spot in the loss column with four teams ahead of them. Yes, it's still mathematically possible for the Yankees to make the playoffs, but it'll take a minor miracle. Losing five of six to the lowly Padres and even lowlier White Sox was a huge blow to their October chances. Those were supposed to be the easy wins.
Rivera's final season — earlier this week he reiterated to Andrew Seligman that he is definitely retiring after the season — is going to waste in the sense that the greatest postseason weapon in history won't get a chance to pitch in the playoffs one last time. As it stands, his final postseason appearance will be Game Five of the 2011 ALDS against the Tigers. I now retroactively consider myself lucky to have been at that game even though it ended the team's season.
Trading Mo would be a Ray Bourque-esque "thanks for all the great years, sorry we couldn't contend but we'll trade you elsewhere so you have one last crack at a championship" move rather than something designed to kick start a rebuild. The Yankees would be doing Rivera a solid by sending him to a team that gives him a chance for a sixth World Series title in his final year. The market would be limited because it would have to be a legit contending team, not a fringe contender who is fighting for a spot. No one would be trading for him hoping he'll get them into the postseason. They're trading for him to turn playoff games into eight-inning affairs.
The team that acquires Rivera would have to be all but guaranteed to go to the postseason. I see eight teams that fit the bill (eight teams already? it's August 8th!):
Athletics
Braves
Cardinals
Dodgers
Pirates
Rays
Red Sox
Tigers
We can rule the Rays and Red Sox right out. That ain't happening. The Athletics have a strong bullpen and a very good closer already, so adding Mo doesn't make a ton of sense. Same goes for the Braves. The Pirates are expected to get Jason Grilli back from his injury in the not-too-distant future, so adding a replacement closer isn't a high priority at the moment. That could change if Grilli has a setback or something.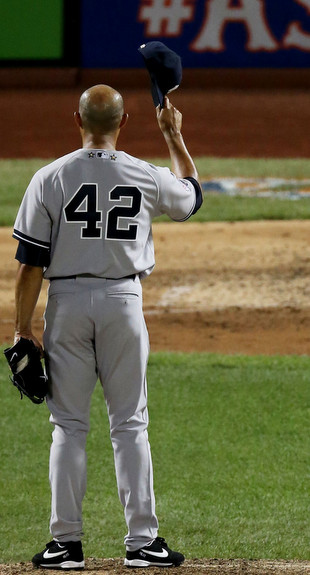 We're left with the Cardinals, Dodgers, and Tigers, all of whom have at least a five-game lead on a playoff berth. They also have a closer who was a setup man when the season started and a need for another arm in middle relief. Acquiring Rivera would push Edward Mujica, Kenley Jansen, or Joaquin Benoit, respectively, back into a seventh or eighth inning role. That's much more realistic than say, pushing Craig Kimbrel into the eighth inning.
Obviously Rivera is one of a kind in that he's still at the very top of his game (last night's blown save notwithstanding) at age 43. I joked earlier this year that you don't see many athletes walk away from the game in their prime like Mo, but there is some truth to that. He's still as brutally effective as ever. There's no good way to gauge his trade value though, it's not like elite closers are traded two months prior to retirement/free agent all that often. I guess there's 2009 Billy Wagner and 2007 Eric Gagne, right? That's pretty much it, and neither was as good then as Rivera is now.
Wagner was fresh off Tommy John surgery at the time of the trade, as in just two appearances with the Mets before being traded fresh. He brought back absolutely nothing in return. The Mets should have kept him and taken the two draft picks after the season. What a terrible move. Gagne, on the other hand, brought back two big league ready and maybe useful pieces in David Murphy and Kason Gabbard as well as a low-level lottery ticket prospect (Engel Beltre). Gabbard flamed out and Beltre finally made it to the show this year, but Murphy turned into a pretty solid player. Pretty nice return for two months of a closer.
So would that be the framework for a Rivera trade? Two iffy but big league ready prospects and a low-level minor leaguer? Yeah I guess. Like I said, trading him would be more about getting him one last shot at the postseason than maximizing the return. It would be nice to get a useful piece in return however. Someone the Yankees could plug into the lineup or the pitching staff for the next five or six years. Doesn't have to be a star, a Murphy-esque player would be just fine. Best of an unfortunate situation, you know?
I can't imagine seeing Rivera in another uniform and thankfully I don't have to worry about that ever happening. He's not getting traded in the next few weeks. Like I said before, there's zero chance of that happening. I know it, you know it, and he knows it. I just wanted to talk things out to see what kind of market and what kind of return the Yankees could expect if they did decide to move their closer to a contender as a personal favor in his final season. It's a thought I never expected to entertain, that's for sure.