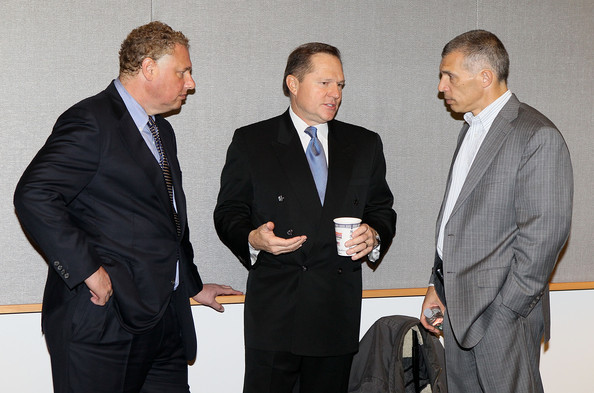 The latest Collective Bargaining Agreement overhauled the draft (and international free agency) and free agency in an attempt to fix long-standing problems, but instead all it did was create a new set of problems. It's a vicious cycle. Teams are now given soft spending caps with harsh penalties for amateur players, and the qualifying offer system severely limits the market for some free agents. There's no perfect solution to these problems — no realistic perfect solution, I should say — but Scott Boras has some ideas.
In a guest piece at ESPN earlier this week (subs. req'd), Boras laid out some creative ways to improve the draft and free agency. By improve I mean "make fair," more than anything. None of his ideas are wacky and all of it passes the sniff test. The entire article is worth a read, but I wanted to touch on the key points separately. Let's break 'em down:
Problem: Qualifying offer system limits market for older players
Solution: Players age 31 and older do not require draft pick compensation
Unsurprisingly, Boras uses Kyle Lohse and Adam LaRoche (both his clients) as examples of older players who were hurt by receiving a qualifying offer this past winter. Both guys had strong-to-excellent seasons in 2012 but had trouble finding work on the open market because no one wanted to surrender a first round pick for a guy in his mid-30s. Under Boras' scenario, a player age 31 or older who received a qualifying offer would net his former team the same compensation pick as any other qualified free agent, however their new team would not forfeit a pick.
I like the idea, but I do think the age threshold may be too low. Thirty-one is still in a guy's theoretical prime, and a team should have to forfeit a first rounder to sign a prime-aged player. Robinson Cano is a perfect example — he'll turn 31 in October and is still an elite player, so why shouldn't a team have to surrender a first pick to sign him? The same would have been true for Nick Swisher last winter. Players like Cano and Swisher, obvious above-average players in their prime, should cost a pick. Maybe 32 or 33 would work better for the age limit.
Problem: Inflexible draft pools with slot values for each pick in the top ten rounds
Solution: No spending limits for the first round
I love this idea. Boras notes the draft talent pool varies from year-to-year, so clubs should be given the flexibility to spend however they see fit with their top selections. If it's a deep class, they should be able to spend more without being penalized rather than squeezing each draft under the same spending umbrella. Smart teams should be rewarded for identifying the best talent and paying top dollar for it, and the teams with extra picks should be able to take full advantage. I really dislike the draft pool system and feel there should be no slot values at all, but this is a nice compromise. If a good player falls — Boras used Mark Appel (his client, duh) in 2012 as an example — a team should be able to sign him without punting several other picks. Free enterprise, baby.
* * *
Boras also argues young American-born players are at a financial disadvantage compared to Cuban-born players — Stephen Strasburg's contract ($15.1M) vs. Aroldis Chapman's contract ($30.25M) at the same age, for example — but I'm not really sure what can be done about that aside from abolishing the draft and going back to true free agency (a.k.a the pre-1965 model). That won't happen for obvious reasons.
I do think Boras has some good ideas for improving the current system though, particularly with regards to his uncapped first round of the draft plan. Ultimately, the best way to address the qualifying offer problem is to complete sever the ties between free agency and the draft, making them two completely separate events. The current CBA doesn't expire until after the 2016 season, however, and it's unlikely MLB and the players' union will open it back up to address any non-performance-enhancing drug related issue. The owners have no reason to cave on that stuff right now.