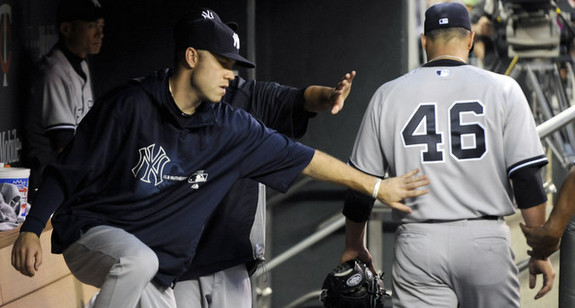 For the first few weeks of the season, the pitching staff carried the Yankees and kept them in nearly every single game. They were getting a strong start day after day and once the bullpen settled into place (thanks to Shawn Kelley and Preston Claiborne), the late innings became much less cumbersome. All of the position player injuries made that strong pitching a necessity, and it kept the club in the division race and atop the AL East as late as May 26th.
Things have changed rather dramatically in recent weeks, and suddenly that pitching staff has become a weakness. The rotation in particular has become a major concern. The Yankees have won just two games not started by Hiroki Kuroda or Ivan Nova over the last four weeks, and both were miraculous late-inning wins. The first was the comeback against Joe Nathan and the Rangers, the second was the walk-off win in Derek Jeter's return against the Rays. That's it, and neither win was all that convincing.
Not only is three-fifths of the rotation pitching very poorly — seriously, the non-Kuroda/Nova starters have a 5.88 ERA (~4.85 FIP) in 111.2 innings since July 1st — but the team's rotation depth has suddenly disappeared. Vidal Nuno has been on the Triple-A DL since early-June with the groin injury from hell, and more recently David Phelps (elbow) and Michael Pineda (shoulder) have suffered setbacks during their rehab. We're still awaiting the latest test results, but obviously fingers are crossed hoping nothing is seriously wrong.
With those three guys hurt and not particularly close to being available, the Yankees only realistically available rotation alternative is long man Adam Warren. He's been pretty good (3.51 ERA and 4.60 FIP) in that role despite very sporadic appearances and often lengthy outings. It's a tough gig and Warren has done it well so far. Giving him a start should the need arise would not be entirely undeserved. It wouldn't be ideal, but it wouldn't be undeserved.
Point is, the Yankees don't have much rotation depth right now. With Pineda hurt, the Triple-A Scranton rotation is the disappointing Brett Marshall (5.45 ERA and 5.09 FIP), a non-prospect in Caleb Cotham, and two journeymen in David Huff and Chris Bootcheck. Huff (2.41 ERA and 2.84 FIP) and Bootcheck (3.70 ERA and 4.35 FIP) have actually pitched well, but there's a reason both guys were designated for assignment and slipped through waivers unclaimed this summer. They are emergency options at best, invoking (bad) memories of Tim Redding and Darrell May.
If the Yankees wanted to take Phil Hughes out of the rotation or put CC Sabathia on the phantom DL so he could head to Tampa for two-week David Cone-esque mechanics crash course, they can't do it right now. The rotation depth just isn't there and that's a huge problem. They'll have to scour the waiver market (the recently released Ted Lilly? ew ew ew) for any serviceable arm who comes along just to make sure they have some options in case a need arises. It's amazing how quickly a team can go from having six starters for five spots to mining the scrap heap.
The Yankees have not won a series in a month and they haven't won back-to-back games in more than three weeks. The current rotation isn't giving them a chance to string wins together — three of four, seven of ten, ten of 14, a solid run like that — and they continue to slide in the standings because of it. Having to overcome a bottom five offense is bad enough, but now New York is having to overcome a shaky start three times each turn through the rotation. It's too much to take, and if the staff doesn't right the ship soon, the Yankees will be completely out of the playoff race before the calendar flips to September.