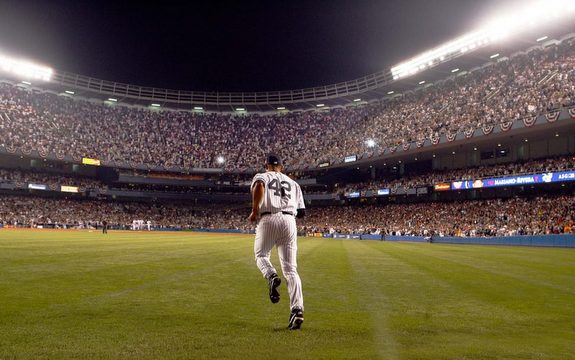 Unless the Yankees make a surprising run to the postseason, Mariano Rivera's playing career will come to an end one week from today. He announced his plans to retire before the season and has been on a year-long farewell tour, receiving gifts from opposing clubs and in turn spending time with fans, stadium workers, and team employees at every opportunity. I highly recommend this Ian O'Connor story on Rivera's interactions with those people this season. Truly inspiring stuff.
The Yankees have chosen to celebrate Mo with a pre-game ceremony on this day. The exact details are a mystery, but the team has announced that Monument Park will not be open to public before this afternoon's game. That's unusual. Perhaps they're unveiling a plaque or re-retiring #42. Or both. Dan Martin reports Metallica will be at Yankee Stadium — something we first caught wind of last month — so I have to think a live rendition of Enter Sandman is in the works. Joe Torre, Jorge Posada, Bernie Williams, and Jeff Nelson are among those who will be in attendance according to Mark Feinsand. Other than that … who knows? It's a great big mystery.
Today is going to be a very bittersweet day. Rivera is my all-time favorite Yankee and I can't wait to see what the team has in store this afternoon. They always knock these celebrations out of the park. Just think back to Hideki Matsui's retirement earlier this year or the final game at the old Yankee Stadium. I'm totally bummed out that Mo is retiring but I'm glad he's walking away on his own terms. Most players are forced out, unwanted by all 30 clubs. Rivera is anything but. He's a historically great player and a first-class person. There will never be another like him. It's been a pleasure watching him for the last 19 seasons.
The pre-game festivities are scheduled to start at 12:30pm ET and YES will indeed carry them. They might also be broadcast on MLB Network and/or MLB.com, but don't hold me to that. First pitch for the series finale between the Yankees and Giants is scheduled for 1:05pm ET and can be seen on YES locally and TBS nationally. Here's the lineup that will face right-hander Yusmeiro Petit:
RF Ichiro Suzuki
DH Alex Rodriguez
2B Robinson Cano
LF Alfonso Soriano
CF Curtis Granderson
3B Eduardo Nunez
1B Mark Reynolds
SS Brendan Ryan
C Chris Stewart
Oh, and by the way, Andy Pettitte is making the final Yankee Stadium start of his career this afternoon. He announced that he will retire after the season a few days ago. It's very fitting that he and Rivera will both walk away from the game together given their career-long connection. What an amazingly awesome and sad day. Enjoy all of it.