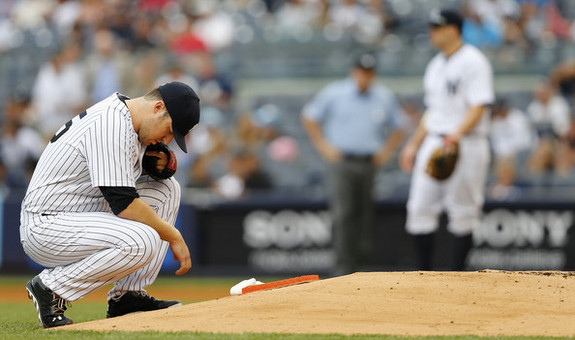 For the third time in the last two weeks or so, left-hander David Huff came out of the bullpen to give the Yankees a quality long relief appearance yesterday. He's been so effective — one run on six hits and five walks with ten strikeouts in 14 innings across three extended outings — the team should consider putting him in the rotation over the generally ineffective Phil Hughes. Like seriously consider it. Not think about it for two seconds and maintain the status quo.
"I haven't made any decisions about changing the rotation," said Joe Girardi to Brian Heyman after yesterday's win, which isn't surprising because the Yankees rarely announce a rotation change after a game. That's something they tend to announce the next day after sleeping on it and talking to everyone involved. Starters only pitch once every five days, so there's no reason to rush into a decision like that.
The 29-year-old Huff is pretty much a known commodity at this point. He spent parts of three seasons in the Indians' rotation and pitched to a 5.50 ERA and 4.93 FIP in 258.2 innings. That's awful. Actually worse than Hughes has been this year. That said, Huff has pitched pretty well of late and sometimes that's enough of a reason to make a change. Replacing the guy who has been pitching poorly with the guy who has been pitching well isn't crazy idea, especially when both have track records of being below-average pitchers. Maybe the other guys throws the month of his life. Who knows?
Given the weirdness of yesterday's game with the rain delay and everything, I see the Yankees having three options with Hughes, Huff, and the rotation. Let's break 'em down before we vote on which is best.
Option One: Do Nothing
The easiest option and one that always exists. The Yankees could simply leave Hughes in the rotation and start him Saturday against the Red Sox as scheduled. Huff remains in the bullpen and that's that. Nothing changes. It's boring and probably a bad idea, but it is a justifiable option given Huff's career performance as a starter.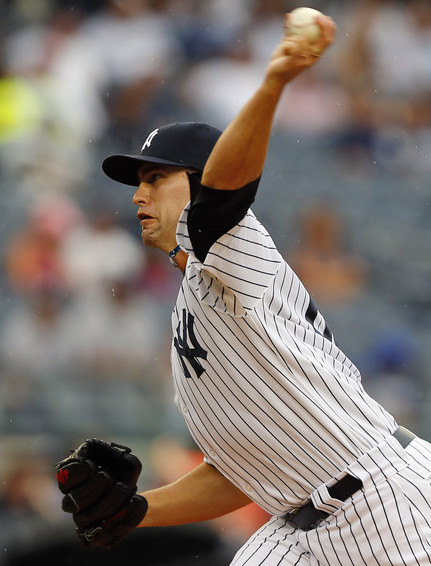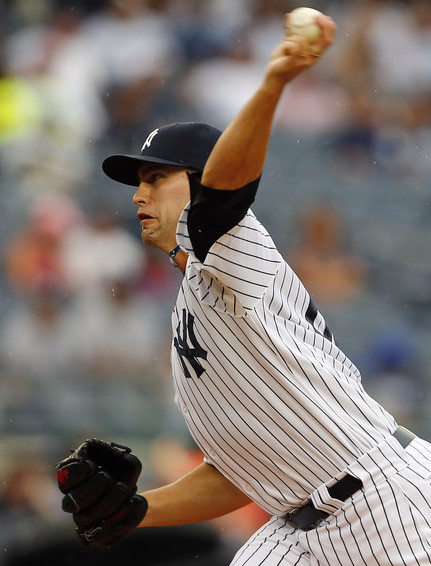 Option Two: Replace Hughes with Huff
The second option is pretty straight forward. Take Hughes out of the rotation and replace him with Huff. Simple. Phil joins the middle relief crew — he's never not been awesome in the bullpen, which would hopefully continue — and Huff gets the ball every five days with a short leash. He was stretched out as a starter with Triple-A Scranton, but it has been a while and he was pretty clearly starting to run out of gas around 55 pitches yesterday (he threw 62 total). That could be because he threw eight pitches on Sunday.
The Yankees won't get a full 100+ pitches out of Huff, at least not right away, but it's not like Hughes was giving them much length anyway. He failed to complete five innings of work in four of his last six starts prior to yesterday's rain-shortened outing. Either way, Girardi & Co. would have to plan to use their bullpen heavily whenever this rotation spot comes up. Thank goodness for September call-ups.
Option Three: Start Hughes on Wednesday
People like the word creative, so let's call this the creative solution. Because he only threw 20 low-stress pitches before the rain yesterday, the Yankees could start Hughes tomorrow and have his rotation spot avoid the upcoming four-game Red Sox series. The long-term concerns are nil — Phil is almost certainly a goner after the season — and with expanded rosters, there are plenty of extra arms to soak up whatever innings are leftover. Hughes might not be able to give the team a full 100-pitch start on what amounts to one day of rest, but it's not like he was pitching deep into games anyway.
By starting Hughes against the White Sox on Wednesday, they would push CC Sabathia back to Thursday and let him start against Boston with an extra day of rest. Sabathia has not been good against the Red Sox this year (or anyone else for that matter), but I don't think I'm alone in saying I'd rather see him out there against Boston than Hughes or Huff. Having the worst starter face a last place team instead of a first place team is the best case scenario.
* * *
Long relievers are like backup quarterbacks in the sense that it always seems like the guy on the bench could do a better job. In reality, there's usually a very good reason they're on the bench, or, in this case, the bullpen. Huff's track record says he would really stink in the rotation, but so does Hughes'. The Yankees are picking between two grenades and hoping they get the one that hasn't had the pin pulled.

What should the Yankees do with their fifth starter's spot?