This was a bloodbath. The Red Sox toyed with the Yankees this weekend before finally blowing them out of the water 9-2 on Sunday night. This looked like a big league team against a Triple-A team. Furthermore, the Yankees were officially eliminated from the AL East race with the loss. It's wildcard or bust. That's a nice little twist of the knife.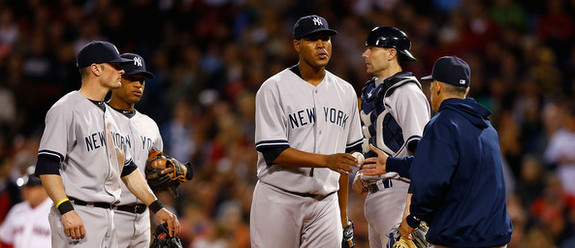 Ivan The Mediocre
Remember when Ivan Nova was a bright spot, giving the Yankees high-quality innings every five days? That seems like a long time ago. Nova lasted just four innings against the Red Sox for the second time in a week, though this time he only needed 88 pitches and not 97. Boston punished him for five runs (four earned) on six hits, four walks, and one hit batter while striking out just two. His night would have been a lot, lot worse had the bullpen not worked some magic after inherited a bases loaded, no outs jam in the fifth.
Since dominating for close to two months, Nova has now allowed 18 runs in 36 innings (4.25 ERA) across his last two six starts. Perfectly serviceable but not what the Yankees need. They need him to be better but this really isn't Nova's fault; he didn't build the pitching staff. Anyway, Ivan has reportedly been dealing with some triceps tightness in recent weeks and hopefully that is why his performance has slipped lately. He wasn't going to sustain that pace all season, but it would be nice if he finished the year well so there's at least something the Yankees could feel good about rotation-wise.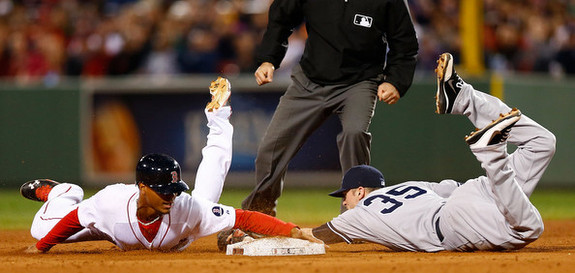 One Mistake
After going a month between games with one or fewer run scored, the Yankees came dangerously close to doing it in back-to-back games. They drew first blood in the very first inning and needed a big hand to get it done. Curtis Granderson worked a leadoff walk before moving all the way to third when Clay Buchholz threw away a pickoff throw. It was a throw a better defensive first baseman probably reels in, but whatever. Alex Rodriguez plated Granderson with a ground out and that was pretty much it for the night. At least until the game was out of reach.
The Yankees had has many double plays (three) as runners who reached second base over the final eight innings of the game. Buchholz was nice enough to walk four batters (plus one more by the bullpen) but New York only had five hits — singles by Alfonso Soriano, A-Rod, Ichiro Suzuki (two), and Brendan Ryan — and only one was actually well-struck (Soriano's). The final seven and 14 of the final 18 players they sent to the plate made outs. Aside from the garbage time run in the ninth, they went down without much of a fight.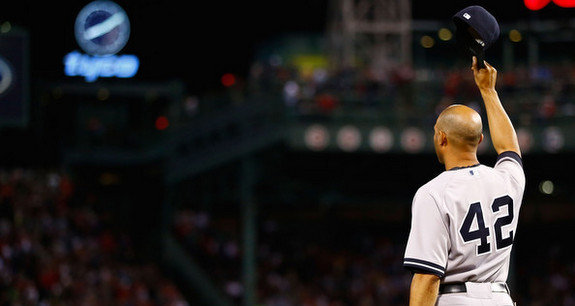 Leftovers
Pretty much the only highlight of this game for the Yankees was Adam Warren's escape job in the fifth inning. Nova allowed the first four men of the inning to reach base and Warren inherited a bases loaded situation with no outs, but he got through it without allowing a run thanks to two strikeouts and a routine fly ball. Warren allowed two runs and got just one out in the sixth inning, but you know. Small victories. Oh, and Dellin Betances struck out two in a perfect garbage time inning. Hooray.
Remember when Vernon Wells stole home a few weeks ago because rookie catcher Josh Phegley threw to second when Eduardo Nunez broke towards towards second? The Red Sox pulled the same trick on Chris Stewart in this game. He threw to second and not only did the run score, but the throw was so bad the runner at second was safe. Stewart also committed his 11th passed ball, the second most in baseball behind J.P. Arencibia. Arencibia has to catch a knuckleballer, remember.
Mike Zagurski, who pretty much looks like a left-handed Joba Chamberlain, made his first appearances as a Yankee and extended the franchise record to 56 players used this season. Amazingly, of those 56, there are only about 10-12 guys you would legitimately want on the team going forward. I'm not joking. Look at this cast of characters.
The Red Sox won the season series 13-6 and are the first team since the 1976 Orioles to win 13 games against the Yankees in a single season. Boston outscored them 120-84 in the 19 games. Complete dominance.
Box Score, WPA Graph & Standings
For the box score and video highlights, check out MLB.com. FanGraphs has some other stats and the updated standings are at ESPN. Both the Rangers and Rays lost — they have the same record and sit in the two wildcard spots — so the Yankees remain four back in the loss column with only 12 games to play. They're three games back of the Indians and have the same record as the Orioles. Cool Standings gives New York a 6.5% chance to make the postseason.

Source: FanGraphs
Up Next
The Yankees get a much-needed off-day on Monday before heading to Toronto for a quick little three-game series against the Blue Jays. Andy Pettitte and R.A. Dickey will be the pitching matchup in Tuesday night's series opener.