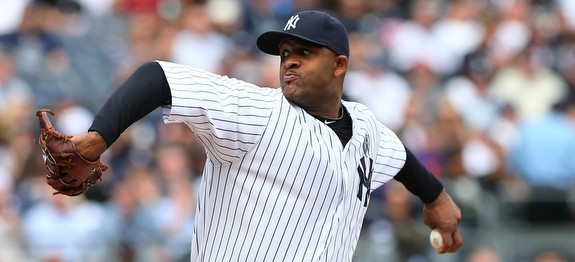 It's no secret that this has been pretty much a disaster season for CC Sabathia, who owns a 4.90 ERA (4.13 FIP) in 204 innings across 31 starts. He's going to set career worsts in several categories unless he closes out the year with an insanely strong finish. Sabathia is a big reason why the Yankees are on the outside of the playoff picture looking in with 13 games to play.
There are no shortage of theories why CC has been so terrible this year. He lost too much weight, he had offseason elbow surgery, the workload is catching up to him … all of that and more could be a factor. Here's what a scout told Baseball Prospectus (subs. req'd) recently:
"More than anything, he just looks dead tired to me and, when you consider his workload since he left Cleveland and how little recovery time he has, I think that makes sense. His arm slot is lower than it has been in the past and he doesn't keep his delivery together as well when he gets deep into the game, which are indicators that he is wearing down. There's no denying that his fastball has lost some juice, and I think that has actually hurt his changeup more than anything else, as hitters don't have to be so concerned with gearing up for the plus fastball. When he had a bigger fastball, hitters had to honor it, but there is less fear there now. However, he still gives it everything he's got in every start and goes deep into ball games, he's just not the front-line ace."
Sabathia's fastball as actually ticked up as the season progressed and he's now sitting regularly in the 92-94 mph range each time out. That's still down just a bit from the last few years, but it's plenty good enough to succeed. Learning how to succeed with it isn't easy though, and I think the scout's point about the changeup is a really good one. A changeup is not a mutually exclusive pitch, so to speak. It's thrown with the same arm action as the fastball and the difference in velocity is what does the trick. A changeup without a setup fastball is just a batting practice fastball.
Last season, Sabathia averaged 92.4 mph with his fastball and 86.0 mph with his changeup, a 6.4 mph difference. This year he's at 91.3 mph with the fastball and 84.8 mph with the changeup, a 6.5 mph difference. Basically the same separation between the two pitches. However, it's easier to sit back on a 91.3 mph heater than it is a 92.4 mph fastball or a 93.9 mph fastball (2011 velocity). Being able to wait a little longer on the fastball also impacts the effectiveness of the changeup. Sabathia's changeup saved 1.94 runs per 100 thrown last year according to PitchFX. This year? Negative-1.70 runs per 100 thrown. That's a swing of 3.64 runs saved per 100 changeups thrown. That's a huge difference.
Unless Sabathia and pitching coach Larry Rothschild make some kind of magic mechanical adjustment, the fastball isn't coming back. That's not how it works for 33-year-old hurlers with nearly 3,000 innings on their arm. The solution may be working on the changeup to get even more separation from the fastball. Choke it back further in the hand, alter the grip, whatever. Something to turn that 6.5 mph separation into something like an 8-10 mph separation, which is where Andy Pettitte is living these days. Changeup masters Cole Hamels and Jamie Shields are also in that 8-10 mph range. This is much easier said than done obviously, but it's something Sabathia will have to do to improve his performance going forward, both this year and next.