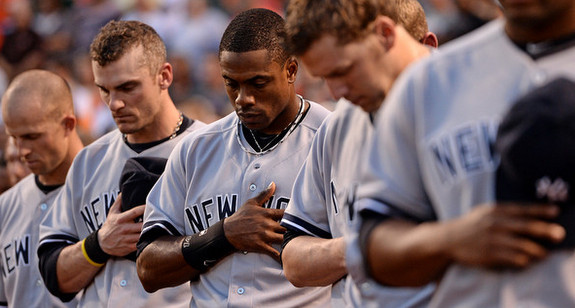 Thanks to their back-to-back come from behind wins over the Orioles, the Yankees are right back in the thick of the wildcard hunt with 16 games to play. Yeah, just 16 games left. The end of the season is right around the corner. Here are some thoughts as we await the final of this four-game series against Baltimore:
1. The Yankees crept to within two games of the second wildcard spot in the loss column, and you know what the most ridiculous thing is? They haven't evenly played all that well recently. They've lost four of their last seven games — the Red Sox just demolished them over the weekend, that was ugly — and trailed in all three wins. The Rays are letting New York and every other team right back into the race. Tampa has dropped five of their last six games and 13 of their last 17 to fall from tied atop the AL East to eight back in the loss column. Last night, in the biggest moment of their season (to date), Joe Maddon brought the pitcher former known as Fausto Carmona out of the bullpen. He promptly walked the bases loaded and surrendered a grand slam. You kinda deserve to collapse when you do that. The Yankees were going to need some help to climb out of the hole they dug themselves a few weeks ago, and the Rays have happily obliged. The Bombers just have to start playing a little better to finish this thing off.
2. Can you imagine where New York would be right now if they had gotten anything out of CC Sabathia this season? I was pretty optimistic about him coming into this year because he finished 2012 well (ALCS Game Four notwithstanding) and had his elbow cleaning up over the winter, but boy was I wrong. Think about it, Sabathia's has been replacement level this year (0.2 bWAR). Replacement level! Nearly 200 innings (198, to be exact) of 4.82 ERA (4.15 FIP) ball. That's hard to believe and tough to swallow. Obviously Sabathia isn't the only reason the Yankees are on the outside of the playoff picture looking in, but there's no doubt he has played a big role in the team's general mediocrity this summer. I think we all knew CC would decline during the course of his contract, but I don't think many expected to see him go from ace to fifth starter in one year. Yuck.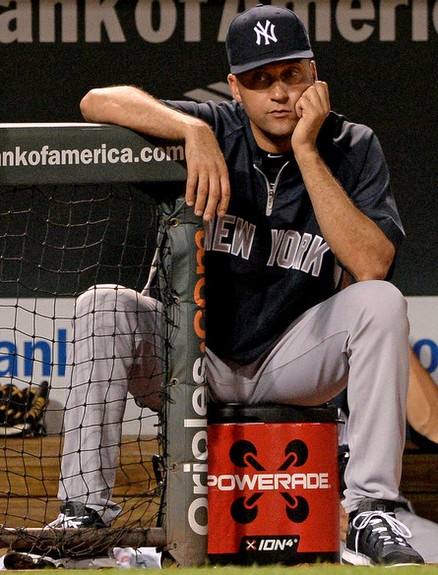 3. I'm convinced Derek Jeter will return next season. I don't see him going out like this, not in a million years. He'll pick up his $9.5M player option and work like hell this offseason to make sure there are no more physical issues next year. I'm sure of it. At the same time, I don't see any way the Yankees can count on him in 2014. I think they need to go out and find a permanent shortstop solution this winter so they can treat Jeter as a full-time DH who can step in and play the field on occasion. If he can do more than that, great. I just wouldn't expect it. I know he's Derek frickin' Jeter and a god around these parts, but we are talking about a 39-year-old shortstop who lost what amounts to a full season with a series of leg injuries. The Yankees should plan for the worst because guys like that usually don't come back and be productive.
4. Hypothetical: what happens if, after the season, Andy Pettitte decides he wants to pitch again in 2014? He had that really ugly stretch after coming off the DL, but he has been vintage Andy of late. Not dominant, but steady and reliable. Pettitte is already the oldest starting pitcher in baseball at 41 and he's shown that he's not physically up to the rigors of a full season, meaning 30+ starts of 100+ pitches. The Yankees will need pitching next year and, despite that hiccup a few weeks ago, I think most people would welcome Andy back with open arms. What's a reasonable cost though? He'll earn $12M this year and I don't see any way the team could give him a raise. If Pettitte wants to come back, I think my absolutely maximum would be $10M for the year. Preferably, I'd guarantee him like $6M with incentives that kick in around 20 starts or so. Let's say a $6M base salary plus $500k for every start after number 20, giving him a chance to match this season's $12M salary if he manages to make a full 32 starts. Reasonable? That would be a pain to work into the luxury tax-drive payroll, but I think it's fair considering Andy's expected production and marquee value to the franchise.