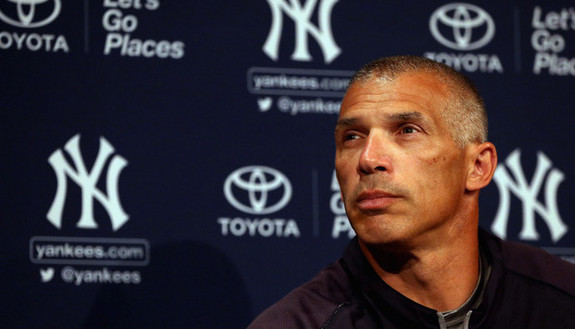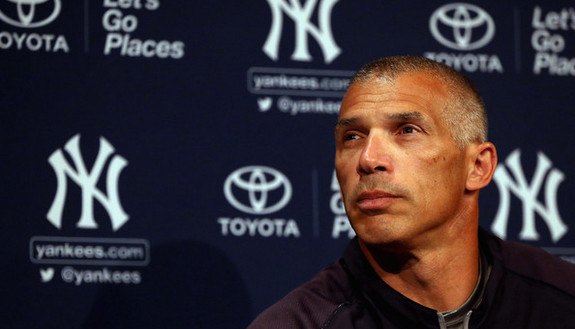 Whether they want to actually acknowledge it, the Yankees are in the middle of a rather significant transition. A historic era in team history has come to an end with the recent retirements of Mariano Rivera and Andy Pettitte, and soon enough Derek Jeter's retirement will make that transition complete. The ties to the dynasty years are fading away and a new era of Yankees baseball is being ushered in.
That transition could occur in any number of ways. It could be smooth, it could be painful, it could be a little rocky … chances are it will be all of the above at one time or another. Up until this season, it had gone rather well for the Yankees. The team remained competitive after through the entire 2000s and into the early 2010s before things fell apart this year. As Brian Cashman said during yesterday's press conference, they've "been really fortunate for a long time to avoid what happened this year."
For the last six years, Joe Girardi has been tasked with managing the team through this transition. He was at the helm when Hideki Matsui had to become a permanent DH and when Johnny Damon had to be told he was no longer a center fielder. Most notably, he had to phase out Jorge Posada, first by taking him out from behind the plate and then by taking him out of the lineup on an everyday basis. As fans we sit back and think that's easy — just take Posada out of the lineup because he stinks. It's not that easy though. Managing isn't just about making the lineup or changing pitchers, it's about managing people.
"You learn how difficult it's going to be," said Joe Girardi to David Waldstein, referring to the end of a star-caliber player's career. "It's sensitive because they are competitive. It's what makes them who they are. It's a will to find a way to overcome anything that's in your way, whether it's a bad shoulder or a bad back or cranky elbow; whatever it is, they are used to finding a way, and that's what made them great."
Joe Torre had to deal with the end of Bernie Williams' career and, for the most part, Girardi had it easy with Rivera and Pettitte. He had to cut back on Andy's workload a bit, making him an 85-90 pitch starter instead of a 110-115 pitch starter, but that's it. Mo was elite and Andy was rock solid right down to the very end. Matsui and Damon both became free agents before the real ugliness started. Posada was tough for a number of reasons, like his ineffectiveness and who he was and what he meant to the organization.
"In a sense, you almost feel like you're protecting them against themselves," added Girardi while talking to Waldstein, "which is difficult because you know they want to be out there all the time. But if you are going to keep them productive through the course of a long season, you could have to protect them, and that's not always what they want to hear."
It appears the Yankees have another Posada-esque situation on the horizon, only about a million times worse. Jeter, who is already well past the usual expiration date for shortstops, turns 40 next June and missed just about the entire 2013 season with leg injuries. It was the thing Cashman said they were fortunate to avoid for so long. The Cap'n is broken down. Taking him off shortstop and out of the lineup against right-handers is an obvious move to make on paper, but Derek Jeter the person has to be managed as well.
"I expect him to play and I expect him to do everything in his power to get back to the form that he had in 2012," said Girardi to Waldstein. "He has a lot of strength that he wants to gain back in his legs and have a normal off-season, and it should be good for him … It could be difficult. Only time will tell how tricky that situation becomes. We all know he wants to be out there every day. And that's what I love about him, I do. But it doesn't make it any easier."
Up until now, Girardi has handled the team's transition from the dynasty years to … whatever the hell is coming next … about as well as could possibly be expected. The Jeter situation is going to require extra-special care not only because it's Derek Jeter and he can be a bit of a pain in the ass, but also because he's the last tie to the dynasty years and a generation of baseball. That's an iconic page to turn. It's not a situation any ol' manager can handle either, at least not handle properly. Girardi has shown he can manage that transition these last few years and he's by-frickin'-far the best man for the job. His contract negotiations are about much more than pitching changes and second inning sac bunts. He's essential for getting this team through the next few years.