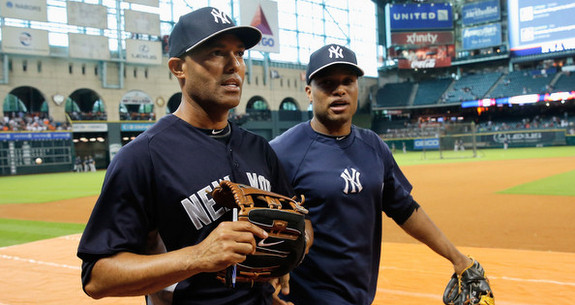 It's no secret that the Yankees have a lot of needs this offseason. A lot of needs and not many internal solutions, which is a bit of a problem. They're going be busy all winter and given their payroll situation, I'm not sure it's possible to address every single need. I don't think many teams ever get through the offseason with all of their questions answered anyway.
Like everything else in life, some of the Yankees' needs are more pressing than others. Finding someone to replace Travis Hafner at DH isn't nearly as important as say, finding someone to stick in the rotation following Andy Pettitte's retirement. Only one of those things can be placed on the back-burner and addressed in the weeks leading up to Spring Training. With that in mind, let's prioritize New York's most pressing needs over the next 15 weeks or so.
Priority #1: Re-Sign Robinson Cano
As far as I'm concerned, Cano is the key to the offseason. If the Yankees re-sign him, they have a chance to contend next season as long as they make some smart moves to improve the cast around him. If they don't re-sign him, they have close to no chance to contend and should seriously consider tearing the whole thing down and rebuilding. I don't expect that to ever happen though. That's just what I think should happen if he bolts.
Anyway, getting Cano locked up has to be the team's number one goal this offseason. Not just locked up either, locked up quickly. That's going to be close to impossible, obviously. The team should put some pressure on Robbie and his rookie representatives to get a deal done soon so they can move onto other business. He's going to sign a massive contract, the kind of contract that will determine how much they can spend on their other needs. The sooner they get this wrapped up, the better. The more it drags on, the more the list of available options for their other needs dwindles.
Priority #2: Rebuild The Rotation
With Pettitte retired, Hiroki Kuroda a free agent, and CC Sabathia having an abysmal year for whatever reason, the Yankees do not have a sure thing in their rotation. Even Ivan Nova, who impressed in the second half this past season, has yet to put together a solid year from start to finish. It would be nice if he pitched well without having to be sent to the minors for a wake-up call for once, wouldn't it?
The Yankees are expected to be all-in on Masahiro Tanaka but even he is an unknown. Everyone expects him to be very good but no one knows how much he can contribute until he actually comes over and starts facing big league hitters. Guys like David Phelps, Adam Warren, and Vidal Nuno are nice depth options but not guys the team should ask to be the numbers three through five starters come Opening Day. Tanaka is (by far) the most luxury tax friendly option but New York could use another veteran starter in addition to him as well.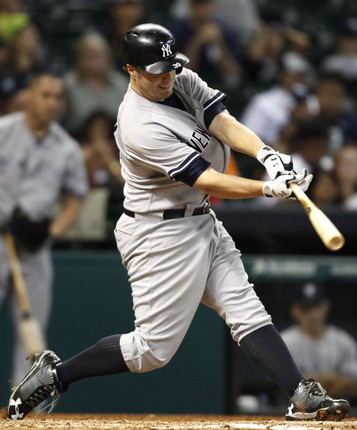 Priority #3: Find Some Power
The so-called Bronx Bombers set a Major League record by hitting 101 fewer homers in 2013 than they did in 2012, the largest year-to-year drop in history. Alfonso Soriano played only 58 games with the team and managed to hit four more homers than any non-Cano hitter. Just think about that. It's mind-boggling, especially considering the hitter-friendly nature of Yankee Stadium.
A full season of Soriano and the expected return of Mark Teixeira should help the power output, but that's not enough. New York needs to find a catcher who is not a total zero at the plate and a designated hitter who can actually hit (!), first and foremost, but adding some punch to the bench and replacing the Ichiro Suzuki/Vernon Wells tag team in right with an actual MLB-caliber hitter should be priorities as well. The Yankees play in a small ballpark and in the AL East. That is a reality, not my opinion. They're going to have an extremely hard time winning if they can't hit the ball out of the park.
Priority #4: Replace Mariano Rivera
Okay, there is no replacing Mariano Rivera. The Yankees are likely to give David Robertson the closer's job and let him sink or swim, but that's not replacing Rivera. Simply sticking someone in the ninth inning isn't replacing Rivera. New York is losing an elite reliever this winter — the inning he pitches is relatively irrelevant. They had two elite guys and now they have just one, so the bullpen is weaker even if Robertson turns into another Craig Kimbrel. I don't know if adding an elite end-game arm is a realistic possibility this winter, but, at the same time, going with Shawn Kelley in the eighth, Robertson in the ninth, and a bunch of kids everywhere else isn't all that realistic either.
Priority #5: Add Depth
If you read this blog regularly, you're going to be sick of seeing the word "depth" by time this offseason is over. I'm going to be talking about it all the damn time after this past season. Pitching depth, infield depth, outfield depth … you name it and the Yankees should bring it in whenever possible. Minor league free agents, waivers, whatever. The farm system doesn't have much immediate help to offer, which, in addition to being a negative, means there are lots of roster openings in Triple-A. Even the smallest of upgrades are worth making. This isn't so much an item on a list of priorities as it is a blanket statement they should look to address whenever possible.