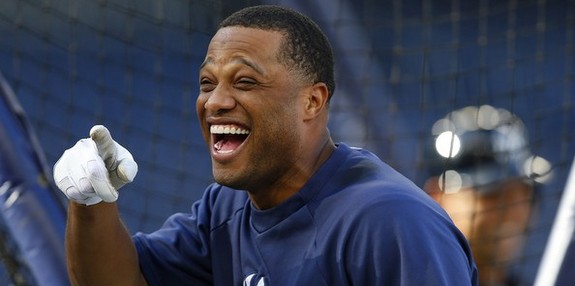 Starting at midnight tonight, free agents will be free to negotiate and sign with any team. The offseason will finally get underway in earnest — up until now it's been a lot of waiting and boring procedural stuff. Now the Yankees and the other 29 clubs can get down to business for real.
With that in mind, it's worth figuring out how much money New York has to work with this winter. They're trimming payroll and intend to get under the $189M luxury tax threshold next year, a threshold they can't pass at all next season. The payroll is calculated at the end of the year for luxury tax purposes. They don't get to spend freely after staying under on Opening Day or anything sneaky like that.
The Yankees have many holes to address and, for the first time in a long time, a finite amount of money to do it. Don't get me wrong, the team never had a truly unlimited budget, but it sure felt like they did at times. None of us were worried about a hard payroll number, that's for sure. This offseason will be a new experience. Here are the club's current contract commitments for next season:
Under Contract ($97.71M): Alex Rodriguez ($27.5M), CC Sabathia ($24.4M), Mark Teixeira ($22.5M), Derek Jeter ($12.81M), Ichiro Suzuki ($6.5M), Alfonso Soriano ($4M), Vernon Wells ($0)
Arbitration-Eligible ($17.2M projected): David Robertson ($5.5M), Brett Gardner ($4M), Ivan Nova ($2.8M), Shawn Kelley ($1.5M), Jayson Nix ($1.4M), Frankie Cervelli ($1M), Chris Stewart ($1M)
Pre-Arbitration-Eligible: David Adams, Zoilo Almonte, Manny Banuelos, Dellin Betances, Cesar Cabral, Preston Claiborne, Matt Daley, Ramon Flores, David Huff, Corban Joseph, Brett Marshall, J.R. Murphy, Eduardo Nunez, Vidal Nuno, David Phelps, Michael Pineda, Jose Ramirez, Austin Romine, Nik Turley, Adam Warren
Potential Bonuses ($13M): Jeter (up to $7M based on awards), A-Rod ($6M for his 660th career homer)
Just to be clear: those are luxury tax numbers, which are based off the average annual value of multi-year contracts. Some players will actually take home a different salary next summer — the money in the Wells trade was structured in such a way that he won't count towards the tax this year despite a $21M salary — but that is how much they will count against the tax.
I tend to be conservative with this stuff, but I wouldn't expect even a perfectly healthy, in-his-prime A-Rod to hit the 60 homers he'd need to hit to trigger his second $6M milestone bonus. The team does have to plan for the first milestone though — he's only six homers away, which is easily doable — ditto Jeter's awards-based bonuses. That stuff counts towards the luxury tax. Between the guys under contract, the arbitration-eligible, and bonuses, the Yankees already have 14 players locked in at $127.91M for 2014. Add in the $12M or so every team has to contribute towards player benefits and it's really $139.91M for 14 roster spots.
That $139.91M leaves the team $49.09M to spend on the remaining 26 40-man roster spots. The 15 players on the 40-man but not on the 25-man active roster are usually estimated at $2-5M total (they earn a lower salary in the minors), so assuming the high-end of that range leaves us with $44.09M for the final eleven 25-man active roster spots. Non-tendering Nix and Stewart would free up another $2.4M but also create two more spots to fill. With Cervelli, Romine, and Murphy around, I see no reason to keep Stewart at that price. Nix is a fine utility man but that projected $1.4M salary is a bit steep. Let's assume those two are non-tendered. We're now sitting on $46.49M to fill 13 25-man active roster spots.
So what 13 positions, exactly, does the team need to fill with that money? Here's a look at the roster as it stands right now:
Catcher

Infielders

Outfielders

Rotation

Bullpen

Cervelli
1B Teixeira
LF Soriano
Sabathia
Robertson
2B ?
CF Gardner
Nova
Kelley
 Designated Hitter
SS Jeter
RF Ichiro/Wells
Phelps
Warren
?
3B A-Rod
?
?
?
?
Bench
?
C Romine or Murphy
OF Ichiro/Wells
?
IF Nunez
?
I think it's safe to assume Nunez, Phelps, and Warren will make the roster and fill three of those 13 open spots. Phelps and Warren have earned spots and the Yankees love Nunez. He's not going anywhere. Either Romine or Murphy can fill in as the backup catcher. All four are in their pre-arbitration years and will make something close to the league minimum, leaving the Yankees with roughly $44.29M to answer those remaining nine ?s.
One of those nine ?s is at second base, meaning Robinson Cano. I feel it's inevitable that he'll sign a fat new contract, probably something in the $20-25M average annual value range. Splitting the middle and calling it $22.5M leaves the Yankees are left with $21.79M to fill their remaining eight roster spots. They are going to need to save some payroll space for midseason call-ups and acquisitions (trades, waivers, etc.), so let's make life easy and call it an even $20M for those eight spots. Still with me? Good.
Obviously the two open rotation spots are the biggest concern. The Yankees have some cheap internal options for those last four bullpen spots — specifically Claiborne, Cabral, Huff, Betances, Daley, and Nuno — though I would like to see them add a veteran late-inning guy to pair with Robertson and Kelley. The bullpen has more openings but is not as much of a priority as the rotation at this point. It's easy to see the appeal of Masahiro Tanaka here — his posting fee is expected to be gigantic but it doesn't count towards the luxury tax. Only his contract counts towards the tax. Assuming he signs for a $10M average annual value like Yu Darvish, that's a bargain for someone who many people expect to be a number two-ish starter. He's a very luxury tax friendly option for the pitching-needy Yankees.
If the Bombers wind up spending $10-12M on Tanaka or another starter, they'll be left with $8-10M for the remaining seven spots. Betances (league minimum) figures to get one bullpen spot because he's out of options. The Yankees could find a fifth starter and long man out of the Warren, Huff, Nuno, and Marshall foursome with the other two guys going to Triple-A as the sixth and seventh starters. They'll be needed at some point, no doubt about it. It's worth noting Huff is out of options and would need to clear waivers to go to Triple-A. Either way, the fifth starter and long man would make something near the league minimum in this scenario. That leaves $6.5-8.5M for the last four ?s, which are a DH (Mark Reynolds?), another bench player (preferably a lefty bat with some pop), and two relievers. Maybe Huff makes the team as a lefty specialist with another guy filling in as the long man. That's an option.
Now, for the elephant in the room: A-Rod. If he is suspended for all of next season, his $33.5M tax hit ($27.5M salary plus $6M bonus) is wiped off the books and the Yankees suddenly have a ton of extra money to spend. Someone like Brian McCann or Carlos Beltran or Matt Garza becomes a realistic option. Heck, they'd be able to afford two of those guys with Rodriguez off the books. If he is suspended for only part of the season, the salary portion of his tax hit would be pro-rated but the team would still have to prepare for that full $6M milestone bonus. Either way, A-Rod being suspended for any length of time leads to considerable payroll savings, though the Yankees would have to find someone else for third base. That's a trade the team would be happy to make.
In addition to what feels like the inevitability of Rodriguez being suspended for some number of games, it's also unlikely Jeter will reach all of the bonuses in his new contract. The Yankees have to go into 2014 prepared just in case he does, but this is something they can monitor as the season progresses. If July rolls around and it's obvious he's not an MVP candidate — seems silly to say now, but remember, he was in the MVP conversation as recently as 2012 — that's suddenly $4M the team can allocate elsewhere, specifically towards a trade deadline pickup. That's a nice chunk of change to have available at the deadline.
After running through all of this, it seems like the Yankees have enough payroll space to make one big Tanaka-sized splash in addition to re-signing Cano this winter. A-Rod's appeal hearing will resume in mid-November, meaning the ruling may not come down until mid-December, after the Winter Meetings. They'll have a lot more money to spend if he is indeed suspended, but some of the top players figure to be off the board by then. More than anything, I think this little exercise — which is just an estimation, remember, these numbers are not exact — shows just how much the Yankees will need a) Teixeira and Sabathia to rebound, b) Nova to put together a full productive season (not a half one like 2011 and 2013), and b) youngsters like Phelps, Warren, and various catchers to step forward and contribute. That seems like a lot to ask.
Previous 2014 Payroll Breakdowns: Part One (January 2nd) and Part Two (August 7th).