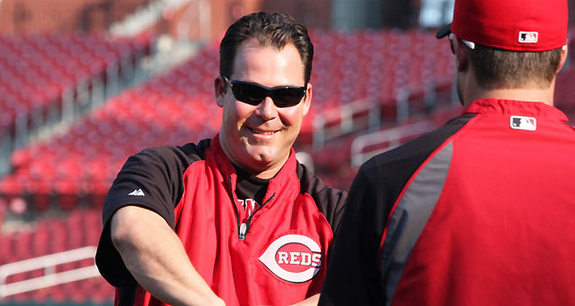 Joe Girardi's coaching staff was shaken up a bit last week when we learned bullpen coach Mike Harkey is leaving the Yankees to become the Diamondbacks' pitching coach. Harkey was one of Girardi's closest friends and confidants, so replacing him won't be easy in that sense. Here's the latest on some coaching and front office positions courtesy of George King, George King (again), George King (yet again), and Josh Norris.
The Yankees have hired Matthew Krause as their new strength and conditioning coach after declining to renew Dana Cavalea's contract a few weeks ago. Krause held the same role with the Reds from 2005-2013. He also spent three years with the Pirates and eight years in the Marines, so the Yankees are in good shape for potential benches-clearing brawls. New York has been one of the most injured teams in baseball over the last four years while Cincinnati has been one of the least injured, though obviously not all of that can be attributed to the strength and conditioning coach.
Gary Tuck is one candidate to replace Harkey as bullpen coach. He held that role with the Yankees in 1990 and with the Red Sox from 2007-2012. Tuck also served as Joe Girardi's bench coach with the Marlins in 2006 and spent 1998-1999 as a catching instructor in the Yankees' minor league system.
Among the internal candidates to replace Harkey are Triple-A Scranton pitching coach Scott Aldred, Triple-A manager Dave Miley, Triple-A hitting coach Butch Wynegar, senior pitching instructor Greg Pavlick, minor league pitching instructor Gil Patterson, catching coordinator Julio Mosquera, and Rookie GCL Yanks manager Tom Nieto. All except Aldred have some kind of big league coaching experience.
Pro scout Rick Williams has left the Yankees to take a job with the Braves. He and Atlanta GM Frank Wren have known each other for a while, dating back to their playing days and time working for the Marlins. Williams was most often used to scout pitchers prior to the trade deadline.
Double-A Trenton hitting coach Justin Turner is out for whatever reason. He has been with the organization for a while but this was his first season with the Thunder. It appears High-A Tampa hitting coach Marcus Thames (yes, that Marcus Thames) will take over in Trenton.