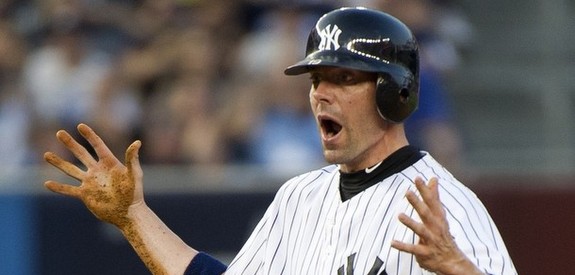 As expected, the Yankees cut ties with Chris Stewart on Monday. The team announced it has traded the catcher to the Pirates for a player to be named later. Tonight is the non-tender deadline and New York was expected to cut Stewart from the roster in the wake of the Brian McCann signing. We heard he was drawing trade interest over the weekend. Dan Barbarisi says the trade was agreed to on Friday but was contingent on Stewart working out a contract with the Pirates, which he has done.
Stewart, 31, will backup former teammate Russell Martin in Pittsburgh, which is pretty much the perfect role for him. He can frame the hell out of borderline pitches but he can't hit (career 59 wRC+) and is just okay at the non-pitch-framing part of catcher defense. Matt Swartz projected Stewart to earn a modest $1M in 2014, but the Yankees have a small army of young catchers on the 40-man roster and don't need to keep him around at that price.
Brian Cashman confirmed the team will tender Frankie Cervelli a contract prior to tonight's deadline a few weeks ago, making him the easy favorite to backup McCann next year. That leaves Austin Romine and J.R. Murphy to split time behind the plate with Triple-A Scranton while Gary Sanchez catches everyday at Double-A Trenton. A trade to further clear up the logjam is possible. Romine seems most likely to go but Murphy might have the most value as a no doubt catcher who is pretty close to big league ready.
The player to be named later coming from the Pirates is almost certainly a non-40-man minor leaguer. Chances are it is someone who is eligible for next week's Rule 5 Draft as well, the teams just have to make sure the player goes unclaimed before completing the deal. Pirates Prospects has a list of Pittsburgh's Rule 5 Draft eligible minor leaguers, if you're interested. The Yankees were a few hours from non-tendering Stewart and getting nothing in return, so it's not a surprise they received relatively little in the trade. Relatively little is better than nothing.