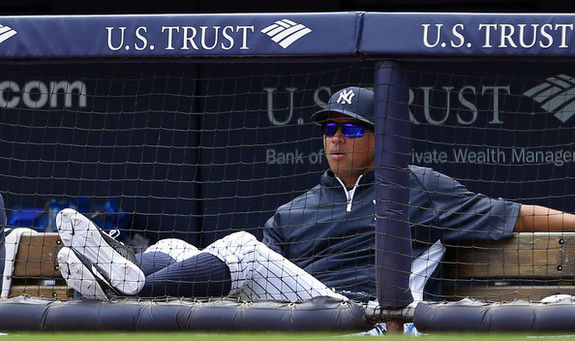 We were waiting months for Saturday's announcement. Alex Rodriguez was officially suspended for the entire 2014 season after arbitrator Fredric Horowitz upheld MLB's original 211-game ban but reduced the terms to a mere 162 games. A-Rod has also been suspended for the postseason, should the Yankees qualify. He's out of the year, officially.
Even though we all kinda knew Alex was going to be suspended when it was all said and done, we really didn't know how long he would sidelined. Fifty games? A hundred? The full season? Now we know it will be the entire year and, more importantly, now the Yankees know. They finally have payroll and roster clarity and can move forward with the rest of the offseason. Let's break down how A-Rod's suspension impacts the team.
40-Man Roster Implications
This is easiest, so let's get it out of the way first. Rodriguez will be on the restricted list during the suspension, meaning he does not count against the 40-man roster even though he is technically still on it. It's similar to the 60-day DL. That now open 40-man spot will go to Brian Roberts once his one-year contract is made official, which Joel Sherman says has happened. The team hasn't announced anything yet though.
Can He Play Elsewhere?
Not without the Yankees' permission. A-Rod is still under contract with the Yankees and they'd have to give him the okay to play in an independent league or overseas. (Korea and Japan honor MLB suspensions, so they aren't an option anyway.) There is no reason for the Yankees to give him permission to play elsewhere either. They still owe him a boatload of money and don't want some independent league coach or trainer working with him. The team has to protect its investment, basically.
Payroll Implications
Even though he has been suspended for the full year, A-Rod will still count as $3,155,737.70 against the luxury tax according to Sherman. His actual take home salary will be a little south of that (roughly $2.9M) since his 2014 salary ($25M) is lower than his contract's luxury tax hit ($27.5M). Rodriguez was suspended 162 games but the regular season actually runs 183 days, so, in essence, the team is still financially responsible for their off-days.
Even with A-Rod almost completely off the books, the Yankees are right up against the $189M luxury tax threshold. I don't see how they can get under without going cheap in the rotation and bullpen while shedding some salary (Brett Gardner?). They did come into about $22M of extra "real money" thanks to the suspension, money that figures to go to the pitching staff. Masahiro Tanaka is the obvious target but that money could lead to more bullpen help as well. Heck, maybe they'll add someone like Ubaldo Jimenez even if they do sign Tanaka. That'd be neat. Don't think it'll happen though. Point is, the suspension saves the Yankees a bunch of cash, both real dollars and dollars against the luxury tax.
Injunction Junction, Some More Dysfunction
Last week we heard Alex could take the case to a federal judge and seek an injuction if his camp felt the ruling was too harsh, something he reiterated in his statement on Saturday:
I have been clear that I did not use performance enhancing substances as alleged in the notice of discipline, or violate the Basic Agreement or the Joint Drug Agreement in any manner, and in order to prove it I will take this fight to federal court. I am confident that when a Federal Judge reviews the entirety of the record, the hearsay testimony of a criminal whose own records demonstrate that he dealt drugs to minors, and the lack of credible evidence put forth by MLB, that the judge will find that the panel blatantly disregarded the law and facts, and will overturn the suspension. No player should have to go through what I have been dealing with, and I am exhausting all options to ensure not only that I get justice, but that players' contracts and rights are protected through the next round of bargaining, and that the MLB investigation and arbitration process cannot be used against others in the future the way it is currently being used to unjustly punish me.
This morning, A-Rod's lawyer Joe Tacopina confirmed they will file the suit seeking the injunction today.
There are a shocking number of lawyers writing about baseball these days (including Ben) and from what they've all said, A-Rod's camp is going to have a very difficult time getting a federal judge to look at this case. They tend to steer clear of collectively bargained matters unless there is gross misconduct or something like that. Rodriguez will have to show Horowitz was essentially working with MLB, as Wendy Thurm explained a few weeks ago.
The only thing I know for sure at this point is that if the case goes to federal court and a judge issues an injunction against the suspension, A-Rod will be allowed to play, just as he was allowed to play during his appeal late last year. It is a very unlikely outcome but not completely impossible.
Spring Training
Rodriguez confirmed through spokesman Ron Berkowitz that he plans to attend Spring Training in a few weeks, which is his right. The Joint Drug Agreement says suspended players are allowed to participate in camp and even play exhibition games. The Yankees and MLB are going to get together sometime soon to figure out a way to prevent this from happening, according to Andrew Marchand. I don't know how likely that is; the Collective Bargaining Agreement and JDA are pretty airtight. If they keep him out against the rules, Rodriguez could file a grievance, which would add legitimacy to his whole "MLB and the Yankees are conspiring to get me out of the game" allegation.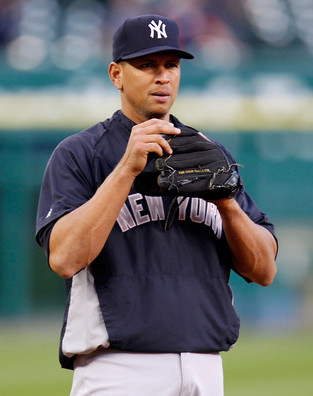 If push comes to shove and A-Rod reports to Spring Training next month, Marchand says the Yankees can simply assign him to minor league camp in an effort to minimize the circus and keep him away from the big leaguers. The could even go as far as instructing their coaches to ignore him — to not hit him grounders during infield practice or throw him batting practice. They could also keep him out of Grapefruit League games by arguing he will not play this year and they need the games for the players on the roster to prepare. One thing I do know about Alex is that he truly loves playing baseball and Spring Training gives him a chance to get on the field. I'm curious to see how this how situation plays out in the coming weeks.
Why Don't They Just Release Him?
I don't think A-Rod will ever play another game. Not in the big leagues and certainly not for the Yankees. That's just my opinion. I think the team will cut ties with him at some point, likely next winter after his suspension is over. It'll be a Barry Bonds situation — plenty of teams will need help at third base in 2015 but no one will bother to give him a chance because his production isn't worth the distraction. Remember, Bonds was way better during his final year (157 wRC+) than A-Rod was last year (113 wRC+).
So, if that is the case, why don't the Yankees simply release Rodriguez now? They would still reap the payroll benefits of his suspension and they wouldn't have to deal with the potential Spring Training headache. I suppose there are several answers to this question but the easiest is that A-Rod could still do something in 2014 that gives the team a way out of all or part of the remainder of his contract. Maybe he tears an ACL playing basketball like Aaron Boone, allowing the team to void his contract. Maybe he fails a drug test and gets another suspension. Maybe he gets hurt during a workout and the team can recoup some salary through insurance. All sorts of stuff can happen between now and next year that helps the Yankees.
Eating $61M — Rodriguez's total salary from 2015-17 — is a tough pill to swallow but it's tough to see an alternative at this point. He will be almost 40 years old when his suspension is over and he will have missed nearly two full years. Coming back from that might be damn near impossible. Plus the team obviously wants nothing to do with him. They'd like him to just go away. It's not my money, but it seems inevitable that the Yankees will release A-Rod, eat the remainder of his contract, and walk away from the distraction at some point. I'll be surprised if he ever plays another game, especially in pinstripes.