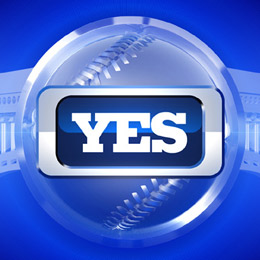 As part of the sale agreement made with News Corp. in late 2012, 21st Century FOX is increasing its ownership stake in the YES Network from 49% to 80%, it has been announced. The move is expected to be final by the end of March. News Corp. had the option of increasing its stake within 3-5 years of the original deal, but FOX and News Corp. have since split into two corporations and everyone agreed to accelerate the timetable.
"Clearly, 21st Century Fox is a great partner for us as the YES Network fulfills and expands its potential as one of the nation's premier regional sports networks," said Hal Steinbrenner said in a statement. "We are gratified that 21st Century Fox has increased their stake and investment in the network. Yankee Global Enterprises is eager to continue working with 21st Century Fox as we explore ways to take YES to even greater heights."
"Our investment in the YES Network underscores our commitment to growing our global sports portfolio with offerings that are exceptional and unique," said James Murdoch, COO of FOX. "We look forward to expanding our partnership with Yankee Global Enterprises and to working with the network's management team to build on the YES Network's success."
Yankee Global Enterprises still owns the remaining 20% of YES and they're getting a boatload of cash through the deal, with annual television revenue jumping from $85M to an estimated $150M. That number is expected to climb to $350M (!) annually within the next 30 years. That money is separate from what amounts to a $420M signing bonus Yankees Global Enterprises will receive from 2013-15 as part of the deal. More details on the original News Corp. deal are here, here, and here.
So what does the deal mean for you? Not much, really. Your cable bill might be a few dollars higher when YES raises the monthly fees it receives from cable providers when their contracts expire, but that is apparently a few years away. The Yankees retain control of Yankees-related programming on YES but FOX will bring some of their own programming to the network. That's the whole point of the deal. It's unclear what kind of programming FOX will bring at this time. A Sportscenter-esque nightly news show is reportedly not in the works.
There had been speculation the agreement with News Corp. meant the Steinbrenners were preparing to sell the Yankees, but as Richard Sandomir explained in November 2012, the deal actually makes it more likely they will hold onto the team, mostly because the tax bill would be enormous. Also, the team's sale value would have been higher without a finalized television agreement — the potential for a huge television deal is worth more than the actual deal itself. Just look at the Dodgers sale.