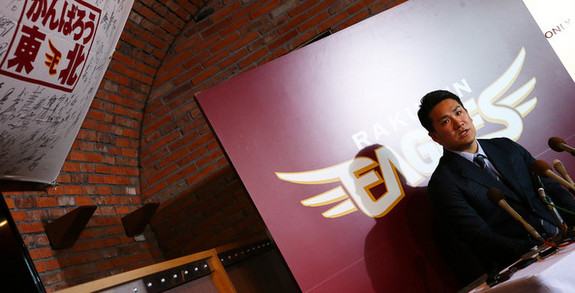 Now that Masahiro Tanaka is officially a Yankee, we can finally stop talking about what it will take to land him and begin to focus on how he might actually … you know … pitch next season. Novel idea, I know. Unfortunately scouting reports and NPB stats don't tell us much about how Tanaka will handle the transition from NPB to the AL East, nevermind the cultural change and all the off-the-field stuff he'll have to deal with. It can be overwhelming.
Most reports have indicated Tanaka will be a number two starter in the big leagues and that means … I don't know, really. Aces are pretty easy to identify; they're the guys who have strung together a few years of truly elite production*. Justin Verlander, Felix Hernandez, Clayton Kershaw, guys like that. You can see them a mile away. They're in their own little world. Number twos are a little different, they're a notch below the aces but still among the top 25-30 starters in the game. At least that's what I think.
* That "strung together a few years" part is important in my opinion. It's possible for a pitcher to have a random ace-like season (Esteban Loaiza!) but the true aces are the guys who do it year after year.
A few days ago Dan Szymborski (subs. req'd) ran Tanaka through his ZiPS system to come up with a projected performance over the life of the seven-year contract. Projections are not predictions, they're just an estimation of a player's true talent level. There's wiggle room in each direction and that is especially true when talking about a pitcher making the transition from NPB to MLB. Here's what the system spit out: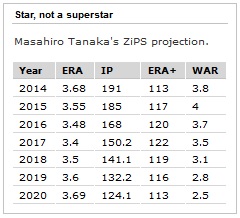 Let's focus on 2014-17 since Tanaka can opt-out after the fourth year. They're the only guaranteed years of the contract. ZiPS has Tanaka sitting in the 3.5-4.0 WAR range during those four years, averaging 3.8 WAR per seasons. Pitchers who have averaged roughly 3.8 WAR per year from 2011-12 include Kris Medlen, Jhoulys Chacin, Kyle Lohse, Zack Greinke, and Doug Fister. Those guys feel like number twos right? They were among the top 25 pitchers in baseball by WAR over the last two seasons, so they fit what we talked about a paragraph or two ago.
I suspect the general sense will be that Tanaka did not live up to expectations if he manages a 3.68 ERA and 3.8 WAR next season, but I think that would actually be pretty awesome in his first year stateside. ZiPS projected Yu Darvish for a 3.62 ERA and 4.5 WAR two years ago, a bit better than his actual 3.90 ERA and 3.9 WAR. The system was in the ballpark, at least. If Tanaka finishes with, say, a 4.00 ERA and 3.0 WAR in 2014, it would still be pretty good but I think most would say he failed to meet expectations, fair or not.
The projections shouldn't be taken to heart, obviously. It is an objective measure based on historical data though, and that's better than guessing, which is what we'd be doing otherwise. If Tanaka lives up to the projections and gives the team something close to 4.0 WAR during the first four years of his contract, he'll have more than lived up to the contract. If he settles in as a 3.0 WAR pitcher instead, that'll be fine too. Maybe not what we all expected but not bad by any means.