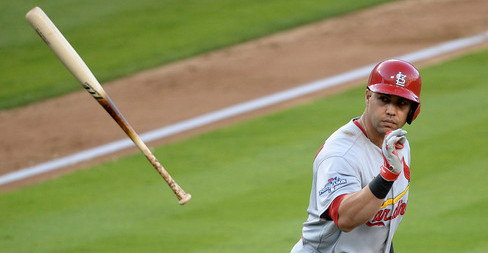 By almost any measure, the Yankees had their worst offensive season in more than two decades last year. They averaged only 4.01 runs per game, their lowest rate since scoring 3.72 runs per game way back in 1990. The team AVG (.242), OBP (.307), SLG (.376), and wRC+ (85) were all their lowest since that abysmal 1990 campaign as well, and the 144 homers were their fewest in a non-strike season since 1989. It was bad.
The scrub-laden lineup was necessitated by injury and offseason inactivity, and the result was a very un-Yankee-like offense that was impatient and didn't really work the count. There were plenty of quick outs and quick innings for the other team. The Yankees drew a walk in only 7.7% of their plate appearances in 2013, their lowest rate since 1991 and only the second time they posted a sub-8.6% walk rate this century. Their average of 3.81 pitches per plate appearance was their lowest since 2004 and it showed. Here's the position-by-position breakdown, using the guys who led the team in playing time at each position:
| Player | 2013 BB% | 2013 P/PA |
| --- | --- | --- |
| C Chris Stewart | 8.8% | 3.78 |
| 1B Lyle Overbay | 7.4% | 3.80 |
| 2B Robinson Cano | 9.5% | 3.63 |
| SS Eduardo Nunez | 6.0% | 3.60 |
| 3B Jayson Nix | 7.9% | 3.76 |
| LF Vernon Wells | 6.6% | 3.42 |
| CF Brett Gardner | 8.5% | 4.23 |
| RF Ichiro Suzuki | 4.7% | 3.70 |
| DH Travis Hafner | 10.7% | 4.11 |
| TOTAL | 7.7% | 3.85 3.78 |
Fixing that lack of patience (and the offense in general) was a top priority this winter, and the Yankees wound up completely overhauling their offense. It wasn't all by design — letting Cano walk probably wasn't part of the plan — but it happened. Gardner is the only player from the 2013 Opening Day starting lineup who projects to be in the 2014 Opening Day starting lineup as well, and even he could wind up traded before the season begins. At a minimum, there will be eight new starters in the lineup when April rolls around. That's some kind of turnover.
Two of the Yankees' three big offseason additions have long been known as guys who will work the count (Carlos Beltran and Brian McCann) while the third (Jacoby Ellsbury) is closer to league average in that department. Kelly Johnson and Brian Roberts, two smaller pickups, are also strong count-workers. Getting Mark Teixeira back from his wrist injury will help the club's overall on-base skills as well. Here's another position-by-position breakdown, this time with the Yankees' projected 2014 starters and their plate discpline stats over the last three seasons:
| Player | 2011-13 BB% | 2011-13 P/PA |
| --- | --- | --- |
| C Brian McCann | 9.9% | 3.98 |
| 1B Mark Teixeira | 10.9% | 4.07 |
| 2B Brian Roberts | 14.1% | 4.04 |
| SS Derek Jeter | 7.0% | 3.77 |
| 3B Kelly Johnson | 9.8% | 4.05 |
| LF Brett Gardner | 9.5% | 4.20 |
| CF Jacoby Ellsbury | 7.0% | 3.85 |
| RF Carlos Beltran | 9.6% | 3.67 (wtf? weird) |
| DH Alfonso Soriano | 6.1% | 3.72 |
| TOTAL | 8.6% | 3.91 |
Obviously the infield is still up in the air a bit, especially since the Alex Rodriguez ruling has not yet been handed down. In the unlikely event his suspension is completely overturned, A-Rod will further help correct the team's plate discipline issue (10.6 BB% and 3.86 P/PA from 2011-13). He's always been a deep count/high walks kinda guy, even during his decline.
The overall difference in pitches per plate appearance between the two starting lineups might seem pretty small — 0.13 P/PA is one pitch every eight plate appearances or so, maybe 4-5 extra pitches per game on average — but some of the individual differences are huge. That 2013 lineup had only two guys with a 3.90+ P/PA and three with a 3.80+ P/PA mark. The projected 2014 lineup boasts five and six, respectively. The number of those annoying ten-pitch, 1-2-3 innings should go down considerably.
The overall difference in walk rate is a bit larger, just about a full percentage point. The only total hacker — meaning someone who refuses to walk — in that projected 2014 lineup is Soriano. Having one guy like that is fine, especially when he has Soriano's power. It's a different look from the rest of the starting nine and he's capable of ambushing a first pitch fastball if one comes his way. A one-ish percent increase in walk rate doesn't sound like much — it's one extra walk every three games, more or less — but every little bit helps. That walk could have a big impact in a given game.
The Yankees' lineup heading into next year is still unsettled, especially on the infield. They could still add someone like Stephen Drew (despite Brian Cashman's recent comments) or Mark Reynolds, which would change things quite a bit. Most of the heavy lineup lifting is done though. McCann, Beltran, and Ellsbury are the big additions and they'll change the team's overall offensive profile. Roberts and Teixeira (both if healthy) will do the same, ditto Johnson. The Yankees gave away too many at-bats last season, but that figures to be less of a problem in 2014.